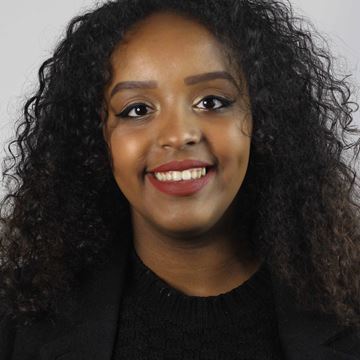 Faisa Mohamed
Location:

London

Career stage:

Entry

Freelancer:

Available Soon
Third year student at the University of Roehampton studying Media, Culture & Identity. I aspire to go into research/strategy in the world of Advertising and Marketing in all of its glory. I'm all about why people like things, I enjoy asking questions, listening to answers and observing people. Just a round about way of saying I like to talk.
I am determined, proactive and enthusiastic having always made sure during my time at University I am also gaining valuable experience in Marketing in its many forms. My passion for Marketing research stems from my deep interest in people why we like what we like and how to gain audiences interest as well as maintaining audiences interest. I find working on campaigns exciting and thoroughly enjoy the journey from brief to end product.
I like to think I have a good range of interests because of my passion in learning new things it keeps things interesting and I believe allows you to connect to a wide range of people. Being open minded I think is a big part of me, this works in hand with being open to opportunities and experience.
Work History
Technical Specialist - Apple Retail
Student Board Member - LOOP
Marketing Campaign Intern (Unpaid) - Centenary Stage Company (New Jersey U.S)
Social Media & Marketing Intern (Paid) - Leaders Unlocked
International Talent & Music placement (2 weeks) - MTV
somewhereto_ Intern (Paid) - Livity
Education
Media, Culture & Identity BA(Hons) - Undergraduate - University of Roehampton
Skills
Advertising
Content Strategy
Marketing
Marketing Strategy
Networking
Social Listening
Account/Client management
Branding and Brand Marketing
Communication
Market Research
Microsoft
Microsoft Excel
Microsoft Office
Microsoft Powerpoint
Research
Team Building
Time Management