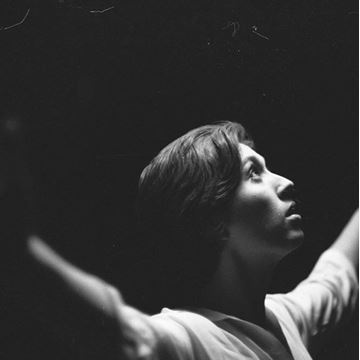 Jasmine Ricketts Movement
Movement Director, Choreographer, Facilitator
Location:

London

Career stage:

Entry

Freelancer:

Available Soon
Movement Director, Choreographer, Facilitator.
I work with actors, dancers, singers, and young people - to engage and enhance creative bodies.
Graduate of both Laban (MA Choreography) and Exeter (BA Drama 1st Class HONS), member of the OVERTURE 2017/2018 cohort - New Adventures / Re:Bourne for dance artists working in the community.
Movement is inherent in everything we do - I grasp that concept and run with it, creating a physical language that enhances storytelling and communicates what we often cannot with words.
Contact jasmine-ricketts@outlook.com for freelance enquiries.
www.jasminerickettsmovement.com
_________________________________________________
Review excerpt for English National Opera's 'Paul Bunyan', 2018:
'Top of the class was choreographer, Jasmine Ricketts. Every movement was delightfully understated... immaculately pointed choreography.' - Seen and Heard International
​
'ENO showcases its chorus in many individual parts; they sound great, but they're also having a ball, smartly choreographed by Jasmine Ricketts.' - The Times
and for English National Opera's 'The Day After', 2017:
"Witnessing the raw energy and physicality of every singer close up, especially as they united to "heave" Phaeton's fiery chariot towards the sun, was to appreciate their formidable skills anew." **** THE OBSERVER
and Duelling Productions' 'No Quarter', 2016:
"With... remarkable movement direction by Jasmine Ricketts... Manton and his team have created an environment that is not only visually stunning in its own right, but that lends itself incredibly well to a performance of such raw emotion and energy." ***** PERSUED BY BEARS (THEATREBLOGGERS)
and 'A Single Act', 2015:
"... intricately choreographed movement, often overlapping between the actors during the scene transitions. The images created stay with the audience and underline what is being shown, and the mental and emotional fragility of the characters." A YOUNGER THEATRE
"It's visually stunning and with movement director, Jasmine Ricketts', beautifully choreographed scene changes, it makes for compelling watching that is utterly intoxicating." THE BARDETTE
Work History
Freelance Dance and Drama Facilitator - One Day Creative Education
Movement Director for 'Morph' - By Mandi Chivasa, Tramshed and Tristan Bates Theatre
Choreographer and Performer for 'Slow Motions' - Molly Mango - film director
Early Stages Teacher - Stagecoach Performing Arts
Choreographer/Movement Director for Paul Bunyan - English National Opera
Choreographer/Movement Director for Opera Project - Royal Conservatoire of Scotland
Freelance Facilitator - Orchard Theatre
Creative Assistant - Summer Youth Project - Little Shop of Horrors - Orchard Theatre
Choreographer / Movement Director - The Day After by Jonathan Dove - English National Opera: Studio Live
Choreographer and Dancer - Phoenix (a dance film collaboration)
Movement Director - 'HOME' - The Arcola Theatre - Changing Face Collective
Freelance Facilitator - Bindlestick Theatre Company
Choreographer - #LetsGetLost, Laurie Grove Studios
Movement Director - Duelling Productions
Volunteer performer - Liz Aggiss - The English Channel
Student Engagement Assistant - University of Exeter
Movement director - Duelling Productions
Dancer/Performer/Collaborator/Visiting Artist - Anthos Arts
Dance Counselor / Youth development professional - Camp Farwell
Choreographer - University of Exeter Gilbert and Sullivan Society
Choreographer of Blink - Freelance
Movement director - Theatre with Teeth
Workshop assistant - Hazlitt Youth Theatre
Education
Choreography - MA - Trinity Laban Conservatoire of Music and Dance
Drama - 1st class BA degree with honours - University of Exeter
Skills
Acting
Event Management
Management
Assistant Directing
Choreography
Contemporary Dance
Customer Service
Dance
Dance theatre
Directing
Drama
Movement
Movement Directing
Musical Theatre
Opera
Performing Arts
Physical Theatre
Public Speaking
Teaching
Teamwork
Theatre
Youth development