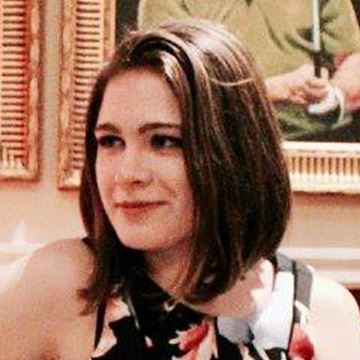 Laura Antone
Creative Producer
Location:

London, England

Career stage:

Entry

Freelancer:

Available

Production managing ten sell-out plays, overseeing a £15000 investment in forty productions, and coordinating £60000 turnover for an annual ball fundraiser, Laura is a British-American producer interested in bringing relevant and exigent projects into reality and onto the stage. Synthesizing her enthusiasm for theatre and business, she is a third year Business Management and Comparative Literature student at the University of St Andrews.
A graphic designer for nine productions, stage manager for three, one-time assistant producer, two-time stage hand, and producer for nten sell-out productions in St Andrews and beyond, her performing arts background is diverse. Her drive to facilitate and participate in arts opportunities led her to co-found Sonder Theatre, and she has been its Executive Director for two years.
SONDER THEATRE is St Andrews' most prolific student theatre company, Delay Detach (Edinburgh Festival Fringe 2016, Runner-Up: Scottish Arts Club Theatre Award, ***** EdFringeReview, *** Fest) being their seventh production. With an emphasis on new writing and contemporary British theatre, the work Sonder Theatre presents is timely, challenging, and engaging (www.sondertheatre.org).
Laura's background extends to professional arts administration and event operations as an intern for Congress and Primary Stages, as well as an employee of the University of St Andrews' Students' Association, operating and co-hosting the consistently packed weekly karaoke nights. Currently, Laura acts as Vice President for Mermaids: the University of St Andrews Performing Arts Fund, after serving as Treasurer for a year, and sits on the Antony Tudor Drama Fund as a non-voting member representing student interests.
Work History
Vice President - Mermaids: the University of St Andrews Performing Arts Fund
Event Technician and Host - University of St Andrews Students' Association
Executive Director & Producer - Sonder Theatre
Development Assistant - Primary Stages (Off-Broadway)
Productions Treasurer - Mermaids: the University of St Andrews Performing Arts Fund
Education
Business Management and Comparative Literature - MA (Hons.) - University of St Andrews
Skills
Adobe Illustrator
Adobe InDesign
Adobe Photoshop
Adobe Software
Finance and budgeting
Marketing
Web Design
WordPress
Arts and Events Management
Arts Fundraising
Email Marketing
English
HTML & CSS
Mac
Microsoft Excel
Microsoft Office
PC
Producing
Spanish
Spreadsheets
Stage Management
Theatre