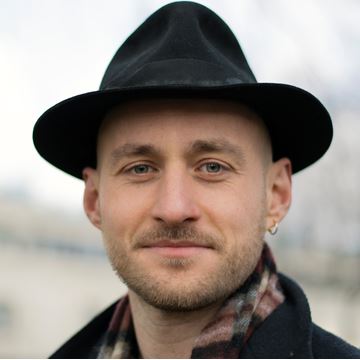 Dean Elliott
Actor and writer
Location:

London

Career stage:

Experienced

Freelancer:

Available
Dean is an actor and writer from the South-West and a graduate of The Royal Academy of Dramatic Art (RADA) with the Theatre Lab MA. He is experienced in devising, improvisation, physical theatre, clowning, writing, post-dramatic theatre and physical comedy.
Dean studied also Drama and Theatre at Royal Holloway and has trained with Lloyd Newson of DV8, Jan Fabre, Aitor Basauri of Spymonkey and Lee Simpson of Improbable.
Dean is a founding member of New Public, www.new-public.co.uk a multi-disciplinary theatre company comprising of fellow rada graduates. New Public's first show Lucid was a 5 star sell out success at both the 2017 Bloomsbury festival and at The Tristan Bates Theatre in April 2018.
Selected reviews for Lucid:
"An inspirationally inventive, brilliant and unmissable show from a company with bags of stunning ideas and the talent to match." - Actdrop
"Too many moments of brilliance to fit into one review" - The Open Door
"The audience were awestruck" - The Spy in the Stalls
As a writer Dean has had work performed at RADA and The Kings Head Theatre as part of Wolabs Playlist new writing night.
Selected reviews for Shift Work:
"Dean Elliott's Shift Work was a particular highlight in the evening - Tender, charming and one that really makes the heart ache."
http://pubtheatres1.tumblr.com/post/171696091547/playlist-presented-by-wolab-the-kings-head
"The final stand-out is Dean Elliott's Shift Work, inspired by The Fall's song of the same name. - With its ping-pong-like structure, bouncing between speakers, Elliott's text builds towards a climax of domesticity. And every second you are desperate for that balloon to burst."
https://theplaysthethinguk.com/2018/03/07/playlist-kings-head-theatre/
"Dean Elliott's Shift Work perfectly captures the beginnings of a relationship breakdown - this for me a piece I'd be very interested in seeing developed further also."
http://www.theatrefullstop.com/2018/03/13/playlist-the-kings-head-theatre-review/
Dean also creates solo work, his acclaimed silent one man show Blank debuted at the Exeter Ignite festival and returned to the same venue for a 6 night run in 2013. He has written, directed and facilitated theatre workshops for performers aged 8 to 80.
Stephanie Cross on Blank for Exeter Daily:
"Unique and Enjoyable"
"An Excruciating, funny, well-crafted performance"
"Fresh, engaging and certainly one to watch in the future"
Kate J Wilson on Blank for Wildfire Review
"Hilariously perceptive, a brave one man show"
"Well constructed and extremely enjoyable"
"Reminiscent of Charlie Chaplin"
Dean is interested in lending his services as an actor, writer or dramaturg to others seeking opportunities for creative collaboration.
Education
Acting - MA - The Royal Academy of Dramatic Art
Drama and Theatre Studies - BA - Royal Holloway, University of London
Skills
Acting
Scriptwriting
Academic Writing
Comedy
Criticism
Cultural Theory
Directing
Improvisation
Physical Theatre
Playwriting