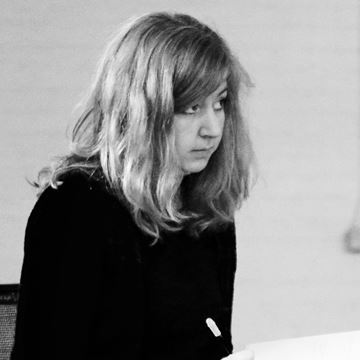 Lily McLeish
Theatre Director
Location:

UK / Germany

Freelancer:

Available
I am a bilingual English-German theatre director based in the London with links to Germany. Born in Sheffield, I grew up in Cologne, Germany. After graduating from the University of Cologne with a BA degree in English Literature and Art History, I began training with Katie Mitchell and for the past 4 years I have worked as assistant / associate director to her in Europe. Most recently I have been working as her Associate on productions for the Royal Court including Ophelias Zimmer and 2071.
I am a creative fellow of the RSC and am currently directing a new play for Little Pieces of Gold at Southwark Playhouse.
In the past I have run education workshops for the National, RSC and Royal Court.
Work as director includes Three Lives for Fringe Arts Bath; Absence by In-Sook Chappell directed as part of the Jerwood Assistant Director Programme for the Young Vic; This Despised Love a devised piece based on Hamlet for the RSC Fringe Festival, a staged reading of The White Bike by Tamara Von Werthern at the Pleasance Theatre Edinburgh; Old Times by Harold Pinter at Artheater Cologne; Footfalls by Samuel Beckett at the Severins-Burg-Theater Cologne.
About my work:
I am drawn to pushing formal boundaries and questioning the limits and conventions of narrative. I want to explore how emotion is embedded in the body. I want to combine detailed psychology with movement and dance and see how this connects with the unique text based tradition here in Britain. I am interested in plays with strong female voices at their centre. I think of theatre as part of a cultural and political dialogue. I want to make theatre that raises questions that are relevant to the challenges of our times.
Work History
Associate Director - Deutsches Schauspielhaus Hamburg - Reisende auf einem Bein
Staff Director - National Theatre - The Beaux' Stratagem
Associate Director - Deutsches Schauspielhaus Hamburg - Happy Days
Associate Director - Royal Court - 2071
Assistant Director - RSC - Two Gentlemen of Verona
Assistant Director - Salzburg Festspiele - Forbidden Zone
Assistant Director - Burgtheater Wien - A Sorrow Beyond Dreams
Assistant Director - Deutsches Schauspielhaus Hamburg - The Rest Will Be Familiar To You From Cinema
Director - Artheater Cologne - Old Times
Assistant Director - Hampstead Theatre - Say it with Flowers
Assistant Director - Schaubühne Berlin - The Yellow Wallpaper
Assistant Director - Schauspiel Köln - Reise durch die Nacht
Performer / Collaborator - SIGNA - Hundsprozesse
Director - Severins-Burg-Theater Cologne - Footfalls
Education
English Literature & Art History - Bachelor of Arts - University of Cologne
Skills
Photography
Video Editing
Assistant Directing
Camera Operating
Directing