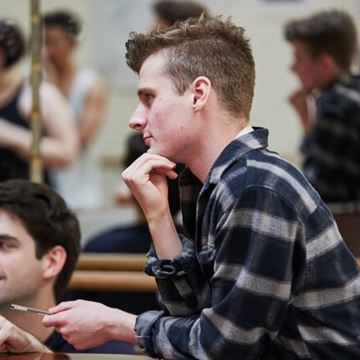 Matthew Iliffe
Theatre Director
Location:

London/Bristol

Career stage:

Early

Freelancer:

Available
Matthew trained on the StoneCrabs Young Directors Programme, in association with The Albany. He graduated from the University of Bristol, receiving a first class honours degree in Theatre & Performance Studies.
Previous directing credits include Side By Side By Sondheim (The Piano Bar, Bristol Hippodrome), The Burnt Part Boys (European premiere, Park Theatre, OFF-WEST END AWARD nomination BEST DIRECTOR and BEST MUSICAL PRODUCTION); Thoroughly Modern Millie (Landor); Precious Little Talent (Gobstoppers Festival, The Albany), The 25th Annual Putnam County Spelling Bee (Alma Tavern Theatre, Bristol) and The Way Things Weren't (The Room Above, Bristol).
As Assistant Director: Brass (National Youth Music Theatre, Hackney Empire), Romeo and Juliet (Insane Root, Eastville Park Bristol).
Press Quotes
'Director Matthew Iliffe has worked wonders.' ReviewsGate
'Matthew Iliffe's direction and Rachel Wingate's set provides a wonderful foundation that allows the story to be told to its full potential… This should be applauded as it proves you don't always need special effects and expensive sets.' LondonTheatre1
'Director Matthew Iliffe keeps the action constantly fluid. With the help of a few chairs and the ghostly miners, he creates the journey up the mountain, under the barbed wire of the mining company's security fences, through forest and across river. It is beautifully matched mime work that is fascinating to watch.' British Theatre Guide
'This unusual musical is gripping and its staging imaginative.' 'Expertly sung and staged.' The Stage
'His current choice to display his artistry in direction and musical staging is a virtuoso exhibit, with multiple changes of location, moving from domestic interiors, through a forest, across a mountain, and into a mine, and in and out of different planes of consciousness (perhaps). It is testimony to his ability as a director and choreographer that he achieves this with such naturalness and ease. He stimulates the mind of the audience to imagine, and visualise, and wonder, and think. And think we do.' BritishTheatre.com
'This is a touching coming-of-age story with a unique musical score, but it's the imaginative way that the audience is taken on this journey by director Matthew Iliffe that makes this show truly special.' Musical Theatre Review
'On stage there are obvious drawbacks. Space being the main one. But that hasn't stopped ambitious director Matthew Iliffe... Powerfully told & imaginatively staged.' Stage Review
'The entire ensemble is clearly well rehearsed – no doubt thanks to director Matthew Iliffe and musical director Nick Barstow... A forward-thinking and meticulous director... A truly imaginative creative team.' A Younger Theatre
'Matthew Iliffe's production – the piece's European premiere – in the Park Theatre's 90-seat studio is imaginatively staged and entirely absorbing.' The Upcoming
'The staging is understatedly spectacular.' TheatreWeekly
'One of the finest examples of Off West End musical theatre... The show under Matthew Iliffe's direction, is also staged perfectly. Rarely has a stage set of such stark simplicity (suspended ropes and lanterns setting the scene alongside a handful of chairs - bravo designer Rachel Wingate) worked so imaginatively alongside flawless performance work.' Jonathan Baz
'Staged with heart and craft... one of the best new shows in town.' Mark Shenton
'Director Matthew Iliffe (has) polished it, giving it some diamond dazzle.' The Times
'Stylish ideas from Iliffe (which) bring some welcome 1920s zing.' The Stage
'Director Matthew lliffe conjures up a bubbly production with many inventive touches.' The Public Reviews
'Matthew Iliffe directs with pizzazz.' Bargain Theatreland
'Perfect direction from young Matthew Iliffe.' BroadwayWorld
'Every detail is noticed – every note, every line, every expression. Iliffe's attention to detail is so minute that every possible crease is totally ironed out, showing a very firm hand on the tiller.' HISKIND Magazine
'Done with pitch-perfect period charm.' Mark Shenton
Work History
Assistant Director - Romeo and Juliet (Insane Root Theatre Company)
Director - Side By Side By Sondheim (Pandemonium Productions, The Piano Bar, Bristol Hippodrome)
Assistant Director - Brass (National Youth Music Theatre, Hackney Empire)
Director - The Burnt Part Boys (SDWC Productions, Park90, Park Theatre)
Trainee Director - Bristol Old Vic Young Directors Scheme
Director - The Angel of Peckham (Duelling Productions, McConnell New Writing Fund, Theatro Technis)
Director - Thoroughly Modern Millie (SDWC Productions, Landor Theatre)
Director - Precious Little Talent (Gobstoppers Festival, The Albany)
Trainee Director - StoneCrabs Young Directors Programme
Production Assistant - Tabard Theatre
Skills
Casting
Assistant Directing
Directing
Drama
Dramaturgy
New Writing
Playwriting
Production Assistant