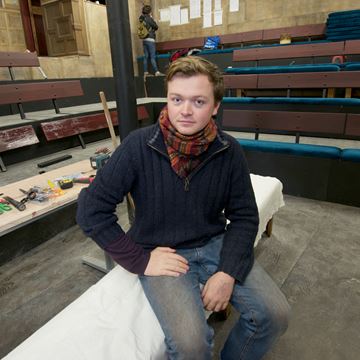 Matthew Whittle
Theatre-Maker
Location:

Bristol, UK

Career stage:

Expert

Freelancer:

Available
I am a Bristol-based theatre maker. I sometimes direct, I sometimes dramaturg, I sometime produce, photograph, write, edit, sing, improvise and perform.
I am co-Artistic Director of The Wardrobe Theatre, Director/Producer of Closer Each Day Company and co-Director of The Smoking Puppet Cabaret.
I get a kick out of making excellent arts events.
Recent 2015 projects include:
Wild Men (Hotel Echo Theatre) at Bristol Cathedral - Director
The Improvised Soap Opera: Season 10 (Closer Each Day Company) at Bristol Improv Theatre - Director/Producer
The Wardrobe Theatre's Greatest Hits (The Wardrobe Theatre) at Tobacco Factory Theatre - Producer/Performer
The Smoking Puppet Cabaret at Shambala Festival - Director/Producer/Performer
Muppits Die Hard (The Wardrobe Theatre) at Tobacco Factory Theatres - Producer/Dramaturg
Mayfest at The Wardrobe Theatre - Producer
Fooling Fridays (Holly Stoppit) at The Wardrobe Theatre - Performer
Hug (Verity Standen) on UK tour - Performer
Hospital Food (St Brendan's Sixth Form Colleg/National Theatre Connections) at Bristol Old Vic - Director
Time Busters: The 26 Hour 385 Seconds Improv Marathon (Closer Each Day Company) at Bristol Improv Theatre - Director/Performer
The Bristol 24Hr Plays (The Wardrobe Ensemble) at The Wardrobe Theatre - Performer
The Star Seekers (The Wardrobe Ensemble) at The Wardrobe Theatre - Devisor
Detective O and The Cold Case Caper (Corina Bona) at Bristol Old Vic - Dramaturg/Director
Work History
co-Director - Smoking Puppet Cabaret
Director/Producer - Closer Each Day Company
co-Director - The Wardrobe Theatre