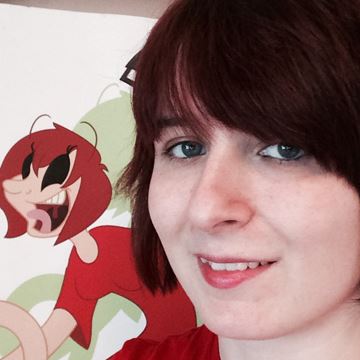 Emma Friel
Freelance 2D Animator/Illustrator
Location:

Newcastle

Career stage:

Entry

Freelancer:

Available
A young Doodlebug on an epic quest to become a productive member of society.
I'm a freelance animator/illustrator with a Foundation Degree in Animation and a BA Hons in Creative Practice from Newcastle College. I have animated and illustrated for clients before, my most recent project being 'The Adventures of Bertie Blue', an illustrated collection of children's stories written by Steve Halsey to tell the story of a carrier pigeon in World War I.
Currently I am developing my own graphic novel as a passion project, a story revolving around a cancelled military pigeon project being given a new lease of life by creating enhanced pigeons for tools of peace. The comic will be hosted at crumbsthecomic.com but until I have the pages prepared to show, you can view any progress and artwork for 'The Crumbs Project' on my website.
I am available for hire and work in a variety of creative projects, including traditional animation, illustration, comics, character designing, conceptual art, storyboarding, caricatures, logo design, motion graphics and tattoo design. Please get in touch if you want to know more.

PRESS
2014, The Journal, "WW1 Centenary Is A Flight Of Fancy For Emma", Barbara Hodgson
2014, News Post Leader, "Kids' Books About The First World War", Tegan Chapman
2012, The Cocktail Hour, Emma Friel Interview, Ellen Murphy
SCREENINGS/EXHIBITIONS
2012, 'The Great Experiment, The Big Draw Campaign for Drawing
2012, 'This is Not An Exit', Star and Shadow Cinema
Skills
2D Animation
Adobe Photoshop
2D Character Design
Adobe After Effects
Adobe Illustrator
Adobe InDesign
Blogging
Children's Books
Comic Artist
Creative Drawing and Illustration
Digital Illustration
Logo design
Microsoft Office
Microsoft Powerpoint
Microsoft Word
Storyboard Artist