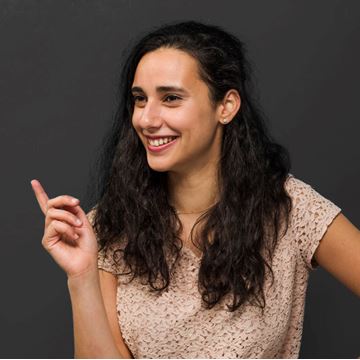 Tina Torbey
Theatre & Performance Designer
Location:

London

Career stage:

Experienced

Freelancer:

Available
Alongside her work as a Performance designer, Tina is also a theatre design consultant with Charcoalblue, specialising in auditorium planning and design.
https://www.charcoalblue.com/practice/people/tina-torbey
Her consultancy work includes Warwick University Lecture Theatre in Coventry and La Cité du Théâtre in Paris.
Tina has joined Charcoalblue directly from an exciting year at the Royal National Theatre where she was awarded the Dingemans Design bursary. She has designed for the Dorfman stage, assisted Rae Smith, Katrina Lindsey and Susan Hilferty. She also had the chance to witness the work and design process of Bob Crowley, Jan Versweyveld, and Richard Hudson.
She has earned her MA Design for Performance -with Distinction- at the Royal Welsh College of Music and Drama, after completing her thesis on interaction performance-audience: 'Breaking the fourth wall in the 21st Century'
In 2016, she designed the set for 'Cabaret' at the Richard Burton theatre working with the Director Paul Kerryson. 'Cabaret' later won the Set Design Silver Award at the World Stage Design - WSD 2017 in Taipei.
Tina originally studied Architecture at ALBA-Beirut, graduating top of her class in 2013. She earned the Order of Engineers and Architects award as well as the Samir Mokbel award for excellence in architectural design.
She also played the Piano at the Music Conservatoire of Beirut and graduated with honours in 2012. She has very recently joined the Central London Orchestra as a percussionist, keeping her passion for music alive.
Her work as a performance designer includes:
2018- Wardrobe, by Sam Holcroft, published by Oxford University Press
2017- Dead don't floss, directed by Roy Alexander Weiss, Royal National Theatre
2017- Samira's party, directed by Bijan Sheibani, filmed in Chiswick
2016- Dr Angelus, directed by Jenny Ogilvie, Finborough Theatre
2016- Macbeth director's cut, directed by Paul Davies, Volcano Theatre Company
2016- Cabaret, directed by Paul Kerryson, Richard Burton Theatre
Work History
Set & Costume Designer - 'Dr Angelus' - Jenny Ogilvie
Set & Costume Designer - 'Macbeth' - Volcano Theatre Company - Paul Davies
Set Designer - 'Cabaret' - Royal Welsh College of Music and Drama - Paul Kerryson
Set & Costume Designer - 'Last Days And Time' - Give It A Name Company - David John Norton
Architect - Design - THP - Tony Haddad and Partners
Architect - Technical Drawings - AAA - Atelier des Architectes Associes
Education
Design for Performance - MA - Royal Welsh College of Music & Drama
Architecture - Diplome d'Etudes Superieures - ALBA - Academie Libanaise des Beaux-Arts
Skills
Adobe InDesign
Adobe Photoshop
Autocad
3D Modelling
3ds Max
Architectural Modelmaking
Creative Model Making
Microsoft Office
Portfolio
ScreenSkills is not responsible for the content of these uploaded files.