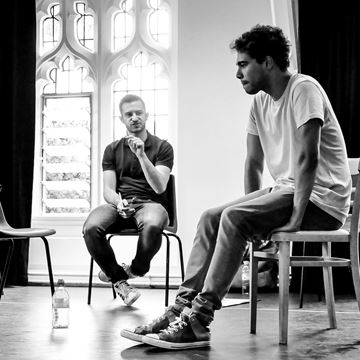 Jamie Woods
Freelance Theatre Director, Co-Artistic Director, Producer
Location:

London

Career stage:

Entry

Freelancer:

Available
I'm a freelance theatre director based in London and recently finished training at the Orange Tree Theatre in Richmond, where I directed Wasted by Kate Tempest and assisted Chelsea Walker on Low Level Panic by Clare McIntyre.
Most recently I have directed extracts from new plays at scratch nights across London, including Grafting by Kyle Ross at Streatham Space Project, 50 Years by James McDermott at the Old Red Lion and 100% by Kyle Ross at the Southwark Playhouse. I have also directed a 3 day workshop and rehearsed reading of Passing for Normal by Olivia Foan.
I also work as Co-Artistic Director of Entita Theatre, a physical theatre company, for whom I have directed and produced Method in Madness, Fall and co-directed Curtain'd Sleep.
I have a keen interest in the interplay between text, movement & music in performance.
DIRECTING:
- GRAFTING by Kyle Ross, Streatham Space Project for Cuckoo Bang, 2018
- PASSING FOR NORMAL by Olivia Foan (workshop + rehearsed reading), 2018
- 50 YEARS by James McDermott, Old Red Lion Theatre for Pluck Productions, 2018
- 100% by Kyle Ross, Southwark Playhouse for Anonymous is a Woman Theatre Company, 2017
- WASTED by Kate Tempest, Orange Tree Theatre, 2017
- CURTAIN'D SLEEP* by Entita Theatre, Basic Space Festival, 2016 - 2017
- METHOD IN MADNESS by Entita Theatre/Alex Doble/Katie Dunstan, Rose Theatre/Edinburgh Fringe/National Tour, 2014-2016
- FALL by Entita Theatre, Rose Theatre/Edinburgh Fringe, 2015
- THE RESISTIBLE RISE OF ARTURO UI* by Bertolt Brecht, University of Kent, 2014
- CRIME & PUNISHMENT by Mark Ravenhill, University of Kent, 2013
*co-directed
ASSISTANT DIRECTING:
- assisted Chelsea Walker on LOW LEVEL PANIC, Orange Tree Theatre, 2017
PRESS ON PAST WORK:
"Gorgeous, poignant and breathtaking … Spectacularly moving"
EdFringeReview (*****)
"extraordinary and terrifying … A truly mesmerising show"
Broadway Baby (*****)
"It is truly difficult to fault this production … A stunning display of visceral new physical theatre"
A Younger Theatre (****)
"Jamie Woods has made the perfect soundtrack, with revelatory use of singer-songwriter Laura Marling"
Fringe Guru (****)
"Perfectly demonstrates the magic of movement, space and storytelling working together, in a haunting and beautiful reworking of Shakespeare" ThriftyTheatre (****)
Work History
Co-Director - Curtain'd Sleep - Entita Theatre
Director - Method in Madness - Entita Theatre
Director - Wasted (Kate Tempest) - Orange Tree Theatre
Assistant Director (to Chelsea Walker) - Low Level Panic (Clare McIntyre) - Orange Tree Theatre
Director - Fall - Entita Theatre
Director - The Resistible Rise of Arturo Ui (Bertolt Brecht) - University of Kent (Final Year)
Director - Crime & Punishment (Mark Ravenhill) - University of Kent (Final Year)
Education
MA in Theatre Directing - Masters - Orange Tree Theatre & St Mary's University
Drama & Theatre Studies - BA Hons + MA Specialism in Directing - University of Kent
Skills
Director
Music Editing
Producing
Tour Manager
Video Editing
Website Design