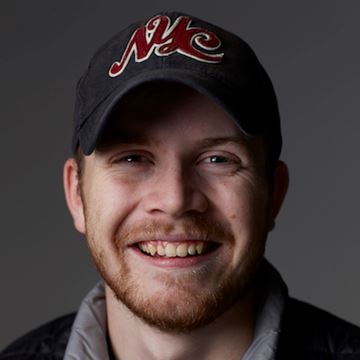 Thomas Murphy
ScreenSkills High-end TV Camera Trainee
Location:

London

Career stage:

Entry

Freelancer:

Available
Availability: I am currently available, with no holidays booked.
Hello, I am Tom. I'm horrendous at writing anything about myself, so I thought I should start this bio with a bit about where I work.
I am currently based in North West London, working for Take 2 Films, a kit hire company in Acton. I was fortunate to secure this job straight out of University, making the drastic change between the thrills of student life and the harsh realities of the real adult world a bit more bearable. This job has allowed me a platform to get hands on with industry level equipment and learn from the vast experience and knowledge of the other employees. Although I love both where I work and the people I work with, I am yearning to learn my craft with on set experience. I am hoping that my few dabbles on set as a runner will help me with that transition.
Outside of a working environment I try and keep active in a number of ways. Whether that be going on a dog walk with my girlfriend, making short videos for YouTube, or going on a long walk that's been spoiled with my dad (I pride myself being a single figure handicap in golf).
My passion for visual storytelling has been growing since I made the choice to study Television at University. I am excited at the possibility of working in an industry that is ever changing, both in terms of its technology and its views. Television for me is a medium that can capture our thoughts and ideas in exciting ways, allowing important messages to be spread in an artistic form.
I post regularly on Instagram, with images varying from stills from my projects, to, photos of my day to day adventures. Instagram not only allows me to share with people what I have been up to, but it allows me to store all of my memories in one place and look through them as if they were a story. I am big believer that the memories we make can stay with us forever, and that a photo can transport us back to those moments.
Work History
Camera Floor Trainee - Take 2 Films
Camera Trainee - Dailies - Vital Pictures (Claykickers - Film)
Camera Trainee - Dailies - Shaftesbury Frankie III Inc, GK Films & Media (Frankie Drake Series 3 - TV)
Camera Trainee/Driver - Blur Films, Mad Cow Films (Beefeater 'Respect' - Commercial)
Floor Runner - Dailies - Fred Films, Powderkeg Productions (Fishermans Friends - Film)
Floor/Base Runner - Dailies - Mammoth Screen (Poldark Series 4 - TV)
Floor Runner - Dailies - Bandit Television (Delicious Series 2 - TV)
Artist Liason - Letters Live
Intern/Runner - Bandit Television (Delicious Series 1 - TV)
Education
Television - BA (Hons) - 2:1 - Falmouth University