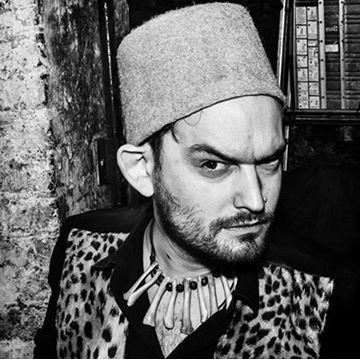 Chris Sick
Freelance Illustrator and Graphic Designer
Location:

Brighton

Career stage:

Experienced

Freelancer:

Available
As a record collector and consummate doodler, I have always been drawn to record sleeve artwork and gig posters. After years of being in bands and DJing I ended up promoting gigs and club nights. To save money I did the posters, and now over 7 years practicing as a professional graphic designer it has given me the experience to design for print especially within the music industry.
Taking my influences from B-movie posters, '50s illustrators such as Jim Flora, Cliff Roberts, Saul Bass and Ed "Big Daddy" Roth, Derek Yaniger, pulp novels and horror comics.
I have been obsessed with the magic of records since first listening to my Dad's copy of War of the World. The cosmic artwork housed in a thick gatefold sleeve of a glowing spaceship emerging from the misty English countryside, the other worldly sounds, the slight crackle when the needle went down.
Over the space of 4 sides of sinister and enchanting black vinyl 3 life-long passions of mine were awakening in me: an unhealthy obsession with collecting records, sci-fi (especially British) and sleeve artwork.
Well, my love of synth-based sci-fi musicals have diminished but my love of music, vinyl and art has stayed with me. I now DJ '50s surf and rhythm & blues and '60s garage punk 45s as well as '30s and '40s swingin' jazz and gospel 78s. I spend the rest of my time watching '60s cult tv and B-movie horror and sci-fi - the lower budget, the better.
Skills
Adobe Illustrator
Adobe InDesign
Adobe Photoshop
Artwork
Microsoft Office
Followers