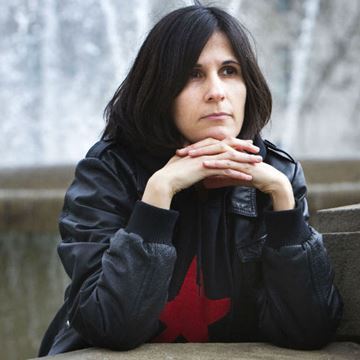 Helena Tornero
Career stage:

Experienced
A Graduate in Directing and Playwriting by the Institut del Teatre de Barcelona. She works as a stage director, actress, singer, screenwriter, theatre translator and as a teacher of playwriting and dramatic literature.
She has written El vals de la garrafa (Premi Joan Santamaria 2002), Les Madames (2003), Babybird (Finalista Premis Romea 2006), Submergir-se en l'aigua (Premi SGAE de Teatre Juvenil 2007. Teatre Tantarantana, 2009), De música i d'homes (2009), Suplicants (Temporada Alta 2009), Apatxes (Premi de Teatre 14 d'Abril 2009), You're pretty and I'm drunk (Teatre Lliure 2011), Sota l'ombra d'un bell arbre (Future is unwritten) (Festival ACERT Portugal 2012), Yesterday (Theatre Uncut London 2012), No parlis amb estranys (fragments de memòria) (Teatre Nacional de Catalunya 2013), Búnquer (com la grisa majoria dels mortals) (Festival Grec de Barcelona 2013), Love and fascism (Istanbul Theatre Festival 2014), F52 (balla com si no et veiés ningú) (Companyia de Dansa-Jazz Luthier), Carmen aux enfers, in the Òpera de Butxaca i Nova Creació productions of 4Carmen (Festival Internacional de Peralada 2015) and displace (a nowhere opera) (Musiktheatertage Wien 2015), Fascinación (Premio de Teatro Lope de Vega 2015), Una conferència ballada (Mercat de les Flors, 2016), Vingt-trois avril mille-six-cent-seize, based on all the plays of William Shakespeare (Théâtre Pitoeff, Ginebra 2016) and Estiu (El Maldà, 2017).
She is the author the children's novel El lladre de llibres (Ed. Oxford 2005). She has also written plays for teenagers, developing part of the creation process with them: Primeres imatges de Mart (Girona, 2012), De-sideris (looking for happiness) (Teatre de Ponent, 2010), Present, Passat, Futur i altres històries de la meva existència (Mataró, 2014) and F/M (devil is alive and well) (Sala Beckett, 2015).
She has translated plays by Evelyne de la Chenelière, Michel Marc Bouchard, Sylvain Levey, Fabrice Melquiot, Dennis Kelly, Paula Vogel, David Greig and Joël Pommerat. She has also worked as a translator in theatre workshops led by Complicité, Dougald Bruce-Lockhart, April de Angelis, Enzo Cormann, David Lescot, Carole Frèchette, Yesim Ozsoy and others.
She is also a founder and member of PARAMYTHADES, a group of theatre professionals which offers workshops of dance, theatre and music at the refugee camps. Her last dramaturgies have been Kalimat (2016) based on the testimony of people at the refugee camp of Nea Kavala, which was staged at the Teatre Nacional de Catalunya as a social theatre project, and Trees never get tired (2017), premiered at the municipal theatre of Polikastro (Greece) with a cast formed by Greek people from the Kilkis region and people waiting for a refugee status from Syria, Iraq, Eritrea and Somalia.