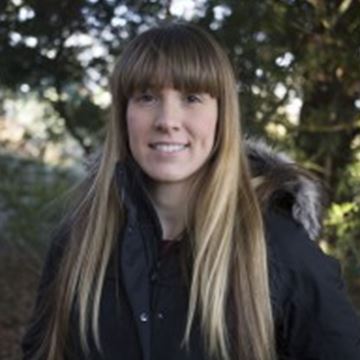 Bethan Peters
Freelance choreographer and dance artist
Location:

London

Career stage:

Experienced

Freelancer:

Available Soon
I am a London based dance artist who choreographs, performs and teaches for a wide range of people and organisations across the professional and community arts sectors.

Specialising in Contemporary dance techniques I am predominately interested in exploring a combination of Release, Contact Improvisation, Limon and Gaga styles as well as collaborating with artists from other forms.

I completed a BA (Hons) in Dance Studies at Roehampton University, then continued my training at Trinity Laban Conservatoire of Music and Dance, undertaking the Postgraduate Certificate in Dance in the Community and completed an MFA in Choreography, at Roehampton University in 2015.

I teach and lecture in dance in a variety of community and educational settings, to a range of ages and abilities. I have previously worked for the Centre for Advanced Training programme at Trinity Laban and continue to teach for the conservatoire's Learning and Participation (Dance) department. I have also established a large portfolio of teaching work in the boroughs of Southwark and Wandsworth. I currently lecture on the postgraduate dance programme at Trinity Laban.
Since 2011 I have been a choreographer and lead practitioner for Arts Odyssey, a community arts organsiation that delivers dance and cross-arts projects in the UK and internationally.
Arts Odyssey website: http://www.artsodyssey.co.uk/
From April 2015 to July 2016 I was the Choreographer in Residence at Royal Museums Greenwich. During my 14-month residency I created a series of site-specific performances for professional dancers and community groups across the museum sites including: There are only encounters at the Queen's House, Shifting Beneath on the Cutty Sark and We may be some time at the National Maritime Museum. As a part of my residency I developed a dance film installation entitled Who is the Land in collaboration with choreographer and videographer Stacie Lee Bennett, which was displayed at the National Maritime Museum for six months. I also delivered a participatory programme of dance and choreographic activities for museum visitors.
In addition to my choreographic and teaching work, I am a freelance dancer and performer. I have danced for choreographers and artists including Jessica Green, Caroline Jones and Willi Dorner. I was also a professional dancer in the NHS section of the opening ceremony for London 2012 Olympics, choreographed by Temujin Gill and Sunanda Biswas.
I have a keen interest and experience in social dance forms such as Ballroom and Latin, Salsa, Lindy Hop and Jive, elements of which I like to experiment with in my choreographic practice.
Work History
Project/Events Manager - Trinity Laban
Tutor & Programme Administrator - Centre for Advanced Training- Trinity Laban
Education
Choreography - MFA - University of Roehampton
Community Dance - Postgraduate certificate - Trinity Laban
Dance Studies - BA (HONS) - University of Roehampton
Skills
Choreography
Contemporary Dance
Dance
Installation
Proje
Teaching
Theatre