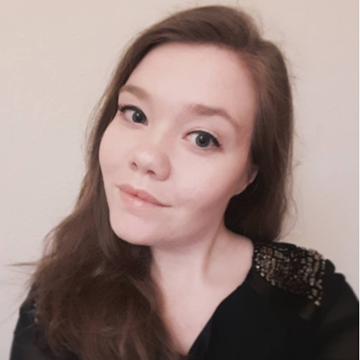 Hannah Cameron
Trainee Script Supervisor (also Editor and Proofreader)
Location:

Norfolk

Career stage:

Entry

Freelancer:

Available Soon
I am a recent Cardiff English Literature graduate with experience in writing, editing and PR, with plenty of creative passion.
I recently worked as a Script Supervisor Trainee for a film shoot in Norwich, which has given me the opportunity to understand more about film production, directorial responsibilities, and networking with directors, producers and film crew. During this training week, I also directed 'Blink', a 1 minute short produced in 50 minutes with the help of fellow trainees. The DOP trainee, Steven, and I are hoping to continue working on the concept our short film is based on.
I am looking to get involved in more creative roles in film, TV and radio. I would be interested in starting in editorial and research roles as a trainee/at entry level. I am also passionate about art, embroidery and photography, and impressionist, renaissance and contemporary art have been a great source of inspiration for my creative writing. My interest and experience in writing, copyediting and providing support to colleagues and clients in a friendly, positive manner has placed me in good stead to embark upon a creative career path.
Work History
Manuscript Editor and Proofreader - Freelance
Script Supervisor Trainee - Signature Pictures
Student Mentor - Cardiff University
Student Support Worker - Cardiff University
Student Secretary for English Literature - Cardiff University Students' Union
Soprano with Solo Performances - TCUPS (The Cardiff University Purcell Singers)
Education
English Literature - Bachelor of Arts (Hons) - Cardiff University
Media Studies - A Level - Diss Sixth Form
English Literature - A Level - Diss Sixth Form
History - A Level - Diss Sixth Form
English Literature - Inspiring Excellence Residential Course - Villiers Park Educational Trust
15 A*-B grades including English and Maths - GCSEs - Diss High School
Skills
Copy Writing
Report Writing
Scriptwriting
Video Editing
Academic Writing
Administration
Copy-editing
Creative writing
Microsoft Office
Organisational and Planning Skills
Project Assistance
Script Supervising
Singing
Portfolio
ScreenSkills is not responsible for the content of these uploaded files.