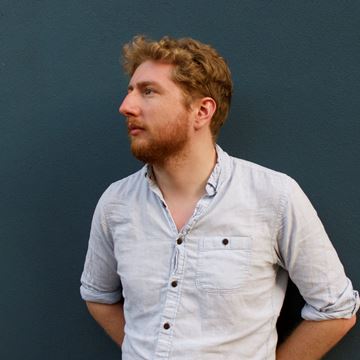 James Huntrods
Location:

London

Freelancer:

Available
James Huntrods is a London-based writer and is the Dramaturg for Theatre Renegade. He is represented by Ellen Gallagher and Daniel Nixon at Blake Friedmann Literary Agency. He is currently a staff writer on series five of Cartoon Network's The Amazing World of Gumball.
Recently, he had short play Waifu at the Southwark Playhouse, and his play Star-Crossed was be part of the Arcola's Playwrought 2015 scheme. Star-Crossed was also in top 25 for the 2013 Verity Bargate Award and longlisted for the Theatre503 Playwriting Award.
James has been a finalist in the 2013 and 2015 PAGE International Screenwriting Competition. and the runner up for the 2014 BAFTA Rocliffe New Comedy showcase for sitcom 'Nightclub Nanny', and he was also shortlisted for 2015 BBC Writersroom Comedy Talent Pool. He's currently shortlisted for The Sitcom Mission with new script "Blue Sky Thinking".
Other credits include, 'Splinters' Ovalhouse 2014, short plays 'Butter Side Down' 2013 and 'The Story' at Theatre 503, English stage adaptation of the book 'Men are from Mars, Woman are from Venus' (writer and resident director), which toured the UK after a sell-out run at the Madinat Theatre in Dubai (2011), and then played the 2012 Edinburgh Fringe.
Other theatre work includes the award winning 'Poets' Corner' (2009), which, after a successful run at the Edinburgh Festival, transferred to Innsbruck, where it now can be studied as a part of the Contemporary Cultural Studies module in the University; 'Clints' Reality' (2010) at the Underbelly in Edinburgh, which received a 4-star Scotsman review, "hot ticket" and was considered for a Fringe first nomination; and 'Etchings' (2010), which was performed at Mine theatre, Leeds.
Film credits include the feature film 'The Perfect Burger' (2010), where he was part of a team of writers working for the BYFA and was directed by Todd Carty ('Eastenders'), and 'Lost for Words' 2012 and 'Burnout' 2013 with Picture28 Films, directed by Benjamin Bate.
2015 PROJECTS:
15th January - Reading of Star-Crossed at the Arcola, directed by Jessica Edwards, as part of the Arcola's Playwrought Programme.
25th January - Extract of Waifu performed at Theatre Renegade's Courting Drama at the Southwark Playhouse.
29th-31st January - Red Jungle Fowl (from the 2014 Edinburgh Fringe) comes to the Et Cetera Theatre, Camden, directed by Tom Birch.
9th February - First recording of Casual Violence's podcast Hector vs The Future, in front of a Live Audience at the Old Red Lion Theatre. Co-written with James Hamilton, directed by Alex Newall.
Skills
Comedy
Dramaturgy
Playwriting
Scriptwriting
Scriptwriting and Development
Portfolio
ScreenSkills is not responsible for the content of these uploaded files.