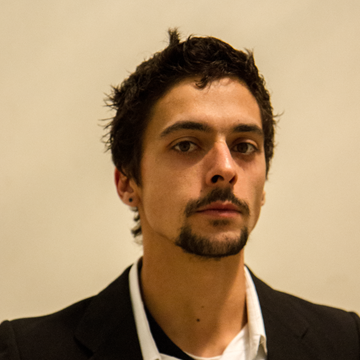 Esteban Fourmi
Artistic Director of AΦE, Dancer, Choreographer
Location:

Ashford, Kent

Career stage:

Experienced

Freelancer:

Available
Esteban is artistic director of AΦE, co-founded the company in 2013 along with Aoi Nakamura. With the vision to bring the performance closer to audiences, our mission is to create high-quality productions and experiences that are not bound by stage.
Installations, site specific, music video, we create an atmosphere, closing gap between the viewer and the work. The audience is part of an environment where they can use their own knowledge about art, culture, literature, whatever is on their head that they can apply. We provoke the reaction of the viewer for them to absorb, reflect and re-work with their own associations.
Our work has been shown at acclaimed venues and international festivals such as Spill Festival of Performance, Sadler's Wells Theater, Stanley and Audrey Burton Theatre, Northern Ballet, Brewery Arts Center, Oval Space, Cut Out Festival (Mexico), American Performing Art University (Cyprus), State Theatre Wiesbaden (Germany) and others as well as featured on i-D magazine, Vice, The Creators Project, Insuffolk, Tanz, Vimeo staff picks, BBC news and others.
He received his Ballet education in several countries, starting in France in 2001 at the Conservatoire of Angers and Paris. He then went on to the Cannes Rosella Hightower and this led him to the great Palucca Schule in Dresden. He then joined the Johannes Wieland Dance company in Kassel in 2008, taking part in several different projects in Europe such as Punchdrunk (2013/14) and NovaTanz.
Esteban joined Jasmin Vardimon Company (JVC) in 2009, since then he has been deeply involved in the work of JVC, through the creation of new works, remounting of company repertoire and also delivery of its various educational programs as a lead education facilitator.
His involvement in creation alongside Vardimon includes the works 7734, Home (Royal Opera House commission), Freedom, Park, Tahnhauser (Royal Opera House commission) and MAZE, and also the remounting of Shabbat, one of Vardimon's early works. He has performed and toured in the infamous works Yesterday and Justitia.
He started to choreography alongside of his performing career and made "Dress up yourself!" (2008) in State Thetaer Kassel and "Hard Core Will Never Die" (2013) in Woking Dance Festival.
Work History
Performer - Jasmin Vardimon Company
Dancer - Tahnhauser (Royal Opera House)
Dancer - HOME, Opera Shot (Royal Opera House)
Dancer - State Theater Kassel (under direction of Johannes Wieland)
Dancer - NovaTanz (Germany)
Education
Contemporary Dance - Postgraduate - The Place, London Contemporary Dance School
Contemporary Dance, Classical Ballet - BA - Palucca Schule (Germany)
Classical Ballet - Diploma - Cannes Junior Ballet (France)
Classical Ballet - Diploma - Conservatoire regional de danse Angers and Paris
Skills
Ableton Live
Acting
Adobe Premiere CC
Art Direction
Classical Ballet
Contemporary Dance
Dancer
Digital Music
Jazz Dance
Live Performance
Physical Theatre
Portfolio
ScreenSkills is not responsible for the content of these uploaded files.