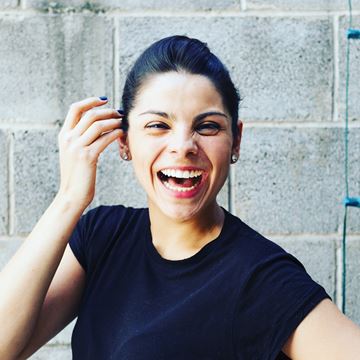 María Inés Olmedo
Creative Producer
Location:

London · Mexico City

Career stage:

Early
Creative Producer and theatre-maker from Mexico City, about to start the 2nd year of an MFA in Advanced Theatre Practice at the Royal Central School of Speech and Drama.
Over the past 5 years, María Inés has produced more than a dozen critically acclaimed theatre, musical and opera productions in Mexico City with her company Co-Productions. She has strived to promote the highest standards of artistic and production endeavour in Mexico's industry - working with the country's top theatres and institutions such as the Secretary of Culture, The National Institute of Fine Arts, The National Theatre Company and The National Opera Company, amongst others.
As a producer, she focuses on promoting innovation in the performing arts and loves to explore different genres, formats, and styles. She has developed modern plays, classical theatre adaptations, clown theatre, musical, opera, and immersive theatre. She enjoys creating visual and interdisciplinary work (for our media age) that is exciting and entertaining for the younger generations. She works collaboratively with established and up and coming writers, directors and artists, specializing over the past years in supporting emergent theatre-makers with whom she shares artistic visions and values.
On the other hand, she is passionate about creating new and younger audiences within traditional disciplines like opera and classical music by adopting more theatrical contemporary formats.
As a Mexican producer, she wishes to enrich both cultures and industries by growing collaborations with artists from Mexico and UK to create bridges between both countries. She is currently developing an immersive opera in London, set in Mexico City during the 1930's. In Mexico, she is developing an adaptation of Shakespeare's A Midsummer Night's Dream.
After having moved to London to complete an MFA, María Inés is strongly interested in stepping up in her career and develop as an international theatre and creative producer. She is looking for an opportunity to get a thorough immersion into British/London's professional theatre industry and to contribute her international experience and Latin American perspective.