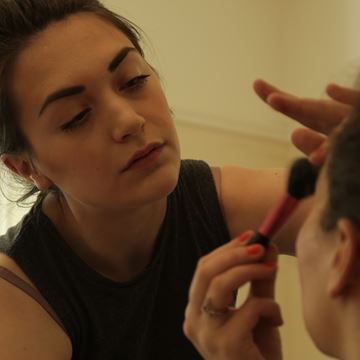 Eleanor Hart
Hair and Make-up Artist
Location:

London

Freelancer:

Available
As a professional and experienced make-up artist, I would welcome the opportunity to broaden my experience. I believe my experience and ability matches the working requirements needed for high level productions and I am confident that I would be a valuable addition to any production team.
Since studying at, and graduating from, Delamar Academy in May 2014, I have worked as a freelance hair and make-up artist, developing and broadening the skills I learnt. I have worked successfully since on a variety of student and independent film productions, photo shoots and music videos, as well as gaining theatrical and fashion experience.
Prior to training as a make-up artist, I completed an art foundation diploma, followed by a film production degree. I believe my art background compliments and enhances the design and imaginative element of my work. My film degree has helped my understanding of the team work involved in the production of any artistic work, as well as the importance of time management and co-ordination skills.
I am hard-working, reliable and conscientious, with strong communication skills and an ability to respond to, and work with, a wide range of personalities appropriately and effectively. Please consider contacting me via the following: mobile and/or email. I also have a Facebook page for examples of my work.
Skills
camera ready makeup
Casualty Make-up
Commercials
Corporate Filming
Digital Film
Fashion Make-up
fashion shows
Hair and Make-up
Make-up
music videos
Period Make-up
period wigs
photoshoots
Prosthetics
special effects makeup
Wigs