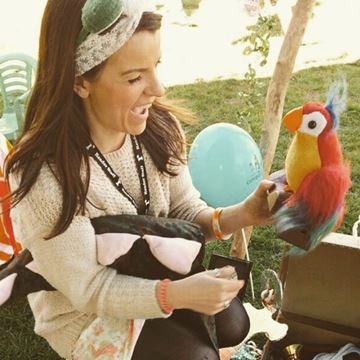 Jessica Buxton
Actor, playwright, facilitator.
Location:

Liverpool

Career stage:

Early

Freelancer:

Available
I never know how best to introduce myself and I wince when meeting someone for the first time and hearing those immortal words 'What do you do?'...well I do lots of things.
I run a children's theatre company in Liverpool where I write and direct new shows that tour locally. I am always blown away by the enthusiasm and gratefulness of younger audiences and their ability to suspend disbelief and accept the bizarre and magical stories that I create. Working with children has allowed me to keep hold of that playfulness and open imagination that we tend to lose as adults. Check out www.thebookwormplayers.com (follow us on facebook and twitter for castings and info.)
After completing a BA in English Lit and Drama at Bath Spa, I then graduated from an MA in Acting at LIPA in 2008 and have been performing and writing since then, recently completing the Writers programme at The Everyman Liverpool.
In 2011, my first play for grown up audiences 'Broken Wings' was performed and published as part of the Theatre in the Rough festival. 'Help!' was performed at The Lantern Theatre in 2013 and my latest play 'Ghost Street' is on at the Unity Theatre, Liverpool on the 17th of September 2016.
As an actor my credits include 'Stranger on the Bridge' at Bristol Old vic, Emmerdale, Hollyoaks, Coronation street, 'The Fall of the Krays' (feature film), 'Of Mice and Men', Mind the Gap- National tour. Please see my spotlight cv http://www.spotlight.com/0630-1207-8955 for full details.
In simple terms I guess I could say I'm an actor, a playwright and a workshop facilitator...but what I actually do? I spend the majority of my time in and out of work in the creative industry riding a crest of high's and lows and searching for ways to be involved in projects that mean something to me and that I can be proud of...and still make a living.
Work History
Artistic Director - The Bookworm Players
Playwright - Self employed
ACTOR - various tours, tv, theatre
Creative Expert - Contact MCR
Education
English Lit and Drama - BA and BSC 2:1 Degree - Bath Spa University
Skills
Acting
Facilitation
Children
Drama
English
Playwriting
Theatre