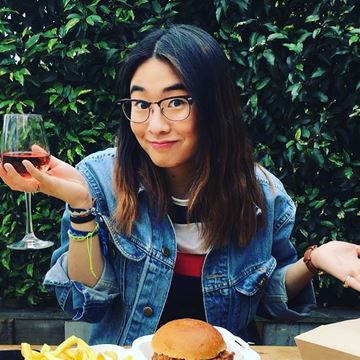 Emma Liu
Assistant Producer
Location:

London

Career stage:

Entry
A graduate in two random subjects with little to no relevance in the creative industry BUT, studying these two subjects made me realise that I want to pursue in something I am passionate in rather than something I am good at but have no interest in.
My aim is to have a career in the film industry. Production is the area that appeals the most to me in terms of areas I want to work in, however as someone with no experience in this field, I am open to taking jobs in ANY area just to gain valuable skills and precious experience which can help me work towards working in production, editing and filming. I have been interested in working in film since I was 11 years old but was encouraged by my educational institutes to pursue an industry that I may not feel passionate for but is a realistic, viable, career rather than one with high chances of getting into and 'low success rates'.

Though I may lack technical skills to pursue this career as quickly as others, I have excellent employability skills due working in retail for four years such as communication, ability to work in a team and as a leader of a team, self-management, planning and organising etc. Thus, I feel that I can quickly acquire any technical skills that may be needed for a job. I have also won several company accolades such as store employee of the month. I feel these working achievements reflect the determination, integrity, resilience that I have and channel into my work.
I may not be the most qualified for the creative industries but I'll work harder than everyone else to compensate.
Though some might think it's not the wisest idea to look for jobs that are not in the field I studied, I think the knowledge and skills that I have honed during my time as a student make me suitable for a variety of jobs. Also, I have the benefit of studying another subject which is business management so my options are not that limited. My degree involved a predominant amount of independent research which required initiative, a strong will to not give up and watch Netflix, and excellent writing skills to meet the high standards that was expected.
I am someone who strives to be the best and is always thinking about improving myself. I seize every opportunity that I get to ensure I will gain new experiences and skills. I am an outgoing person who is easy to teach, flexible, and has good inter-personal skills. I am grateful for every opportunity and am certain that whatever job I get, I have the enthusiasm, drive and dexterity to ensure that I make a success of it.
In my free time I like to enrich my cultural side by listening to music or watching films (no particular preference, I listen and watch anything).
Check out my linkedin page if you want a more 'corporate' profile page.
Work History
Senior Sales Adviser - Debenhams
Sales Adviser - Debenhams
Education
Politics and Business Management - BA (Hons) - Queen Mary, University of London
Mathematics (B) - A-Level - Heathfield School, GDST
Chinese (B) - A-Level - Heathfield School, GDST
Politics (B) - A-Level - Heathfield School, GDST
Mathematics (A) - GCSE - Heathfield School, GDST
English Literature (A) - GCSE - Heathfield School, GDST
History (A) - GCSE - Heathfield School, GDST
Chinese (A*) - GCSE - Heathfield School, GDST
Physical Education (A) - GCSE - Heathfield School, GDST
Science - Double Award (AB) - GCSE - Heathfield School, GDST
German (B) - GCSE - Heathfield School, GDST
Fine Art (B) - GCSE - Heathfield School, GDST
English Language (B) - GCSE - Heathfield School, GDST
Skills
Public Speaking
Training and Education
Academic Writing
Business
Commercial Awareness
Communication
Leadership Development Coaching
Microsoft Excel
Microsoft Office
Microsoft Powerpoint
Organisation
Organisational Skills
Proofreading
Sales
Speed Reading
Team Leadership
Team Management
Team Player
Time Management