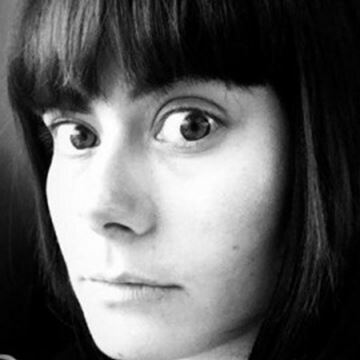 Emma Baggott
Freelance Theatre Director
Location:

London

Career stage:

Entry

Freelancer:

Available
Most recently I directed Normal by Anthony Neilson as part of the RIFT festival of 90s theatre. I worked with some of the very best 'next-gen' designers including Lindbury winning Grace Smart, Olivier nominated sound designer Giles Thomas and lighting designer Ciaran Cunningham (whose work has been seen at the Young Vic, Sadlers Wells, The Royal Court and the Royal Exchange). The space at Styx was transformed by my team into a stark, stylish and haunting production which garnered critical acclaim from Lyn Gardner amongst others.
Press for Normal
Normal by Anthony Neilson (Styx, 2017)
Emma Baggott's astute revival, meanwhile, plays much of the action across a metal table that conjures both abattoir and morgue. Baggott recognises the expressionist influence on this play – there is a neatly played jerky silent movie scene. She also draws fine performances from all three actors, including Cathy Walker as Peter's wife who, like Wehner, becomes a puppet in the hands of a man who is disconcertingly portrayed as the most charismatic character on stage. The Guardian
Normal by Anthony Neilson (Styx, 2017)
Director Emma Baggott dissects the text, teasing out unexpected implications and moments of fleeting humanity. The Stage
Normal by Anthony Neilson (Styx, 2017)
Baggott recognises this stylistic quality of the text, really exploring its impact on the audience, and in the process proves that one does not have to bear witness to a torrent of gratuitous acts in order to have a response to it. Define Arts
Normal by Anthony Neilson (Styx, 2017)
Ground-breaking theatre company RIFT found that the play's message still resonated in 2017 and have brought us a sleek revival with a strong cast and a visually striking design. Everything Theatre
Normal by Anthony Neilson (Styx, 2017)
Normal is a dissociative assault on the senses that leaves you feeling like you've emerged wide awake from a nightmare. London Theatre
Normal by Anthony Neilson (Styx, 2017)
Emma Baggott's fluid yet sturdy production opts for a stylized rather than naturalistic portrayal of violence, which chimes well with a Germanic expressionist style. A thoughtful and forcefully-choreographed piece which we would recommend for strong performances as part of an agile, striking production probing troubled times and warped spirits. Traffic Light Theatre Goer
As Director, theatre includes: Normal by Anthony Neilson (Styx) The H - Word by David Watson (Shakespeare in Shoreditch Festival); 10 Scenes for Women, various writers (Theatre Royal Haymarket); Scan Artists by Evan Placy, (The Round House, Brighton Fringe Festival & The Yard); Balloons, (Redbridge Drama Centre); The Fun Committee, (UK Centre for Carnival Arts); Heroes, (Hen & Chickens).
As Associate Director, theatre includes: McQueen by James Phillips, dir John Caird (Theatre Royal Haymarket), The Sound of Yellow, by Francesca Beard and created by the company dir Matthew Xia (Young Vic) and Tangent,devised by the company, dir Ed Bartrum (New Diorama).
As Assistant Director, theatre includes: Aladdin by Andrew Pollard, dir Ryan McBryde (Salisbury Playhouse) McQueen by James Phillips, dir John Caird (St James Theatre), City Stories by James Phillips, dir James Phillips (St James Theatre Studio), One for the Road/Victoria Station by Harold Pinter, dir Jeff James (Print Room & Young Vic); Just so Stories by Rudyard Kipling, dir Rafe Beckley (The Pleasance); Her Name was Pamela Mooney devised, dir Naomi O' Kelly (Belltable, Limerick).
I taught and directed at the Brit School for Performing Arts & Technoogy for five years in both the Theatre and Community Arts Practice Departments. I have directed many productions with young people, Earthquakes in London, Nights at the Circus, Biding Time, Pornography, Death and the Maiden, (The Brit School); The Building Speaks, (The Imperial War Museum); Henry VI Part 2, (The Dell Theatre, Stratford Upon Avon); Twelfth Night, (The Ashcroft Theatre); Off the Menu, (Wimbledon Theatre Studio); Journeys, (Kairos Community Trust); Roots of (Croydon, Whitgift Centre). I also teach and run workshops for University of Florida, Goldsmiths College, Arts Ed & University of Kent.
Work History
Director - Normal by Anthony Neilson - Styx
Assistant Director - Aladdin - Salisbury Playhouse
Director The H-Word by David Watson - Shakespeare in Shoreditch Festival
Associate Director - McQueen - Theatre Royal Haymarket
Assistant Director - McQueen - St James Theatre
Director 10 Scenes for Women - Masterclass - Theatre Royal Haymarket
Associate Director - Sound of Yellow - Young Vic
Education
Drama & Theatre Arts - BA (HONS) - Goldsmiths, University of London
Skills
Design
Classiscs
Community
Devising
Drama
Dramaturgy
Immersive Theatre
International
Movement
New Writing
Outreach
Physical Theatre
Site Specific Performance
Teaching
Theatre
Verbatim