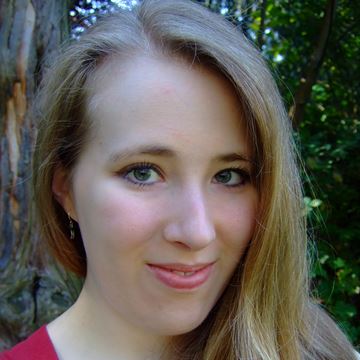 Lauren Morley
Front of House, YouTuber
Location:

London, UK

Career stage:

Entry

Freelancer:

Available
A theatre-loving, script writing, Shakespeare directing, arts administrating, classically-trained-singing, event planning, social media strategizing, YouTubing, collaborating and curious Creative, who moved to the UK in 2014 to become a part of London's vibrant arts and culture scene.
The next step I am looking to take is to enter the wonderful world of London Theatre. My previous experience directing and acting in performances of Shakespeare, and performing in Opera and Musical Theatre, running my own YouTube channel for five years, writing stage play upon screenplay upon social media post, event plan, and communications strategy...all of this, I'm sure, will help me create something wonderful.
My play, I'll be Watching You was produced in the 2009 Canterbury High School Arts Festival, and I recently had the opportunity to pitch my screenplay to Bankside Films and FilmLondon through the Screen Arts Institute.
This past March, I produced a drama showcase for the Goodenough College community, directing two of the three scenes presented, my colleague and I casting them from fellow members. This experience reminded me just how much I love the whole process of theatre, and want to get involved on a more professional level.
The CV attached to my profile details my experience in the Performing Arts specifically. My general work experience is detailed in the "Where I Am From" section of my profile.
I am a dual citizen of Canada and Finland, able to work and live in the UK without restriction.
My corporate video portfolio is available upon request.
Work History
Front of House Staff and Usher - Curzon Richmond
Content Creator and Partner - YouTube
Administrator, Social Media Co-Ordinator -Drama Society - Goodenough College
Event Co-Ordinator -Social Events Committee - Goodenough College
Communications Officer - Department of Justice Canada
Production Assistant/Sound Technician - VRE (Web Series)
Junior Web Designer - Department of Aboriginal Affairs and Northern Development
Customer Service Representative - Mrs. Tiggy Winkle's Toy Store
Supernumerary - Opera Lyra Ottawa
Education
Screenwriting and Production - Certificate - The Screen Arts Institute, London
Communication - Degree (Honours BA Specialisation, Magna Cum Laude) - University of Ottawa
Theatre - Degree (Honours BA Minor, Magna Cum Laude) - University of Ottawa
Creative Writing - Diploma - Canterbury High School
Skills
Brand Design & Development
Event Management
Final Cut Pro
Scriptwriting
Social and Digital Campaign Development
Social Listening
Video Editing
Web Design
Abstract Thinking
Academic Writing
Acting
Active Listening
Adobe InDesign
Adobe Photoshop
Adobe Premiere
Article writing
Artist
Arts
Arts Administration
Arts and Events Management
Arts Fundraising
Audience
Ballet
Bilingual
Brainstorming
Camera Assisting
Camera Lighting
Camera Operating
Camera Operation
Cinema
Cinema Exhibition
CMS
Collaboration
Communication
Communications
Communications Strategy
Corporate Filming
Corporate Filmmaking
Creative
Creative Arts
CSS
Dance
Digital Media
Digital Video
Directing
Directing Actors
Directing Film
Directing Shakespeare
Drafting
Dreamweaver
Efficiency
Event Design
Event Planning
Event Skills
Events
Facebook
Film Direction
Final Cut Express
Final Draft
Final Draft Revisions
French
Front of House
Good Listener
Gumption
Hair and Make-up
HTML & CSS
HTML5
Jazz
Jazz Dance
Lighting
LinkedIn
Make-up Design
Making Connections
Marketing Strategy
Multimedia
Musical Theatre
New Media
Newsletters
Opera
Optimism
Performing
Performing Arts
Photo Editing
Photography
Playwriting
Positivity
Proofreading
Re-drafting
Revisions
Rock
Screenplays
Screenwriting
Script and Screenwriting
Script and Story Development
Set Building
Set Design
Singing
Social and Digital Media
Social Media
Social Media Strategy
Soprano
Special Effects Make-up
Stagehands
Strategy
Supernumerary
Team Building
Team Leadership
Team Player
Technical Theatre
Theatre
Theatre Directing
Theatre Lighting
Theatrical Make-up
Time Management
Triple-threat
Tumblr
Twitter
Writing
YouTube
YouTube Analytics
Portfolio
ScreenSkills is not responsible for the content of these uploaded files.