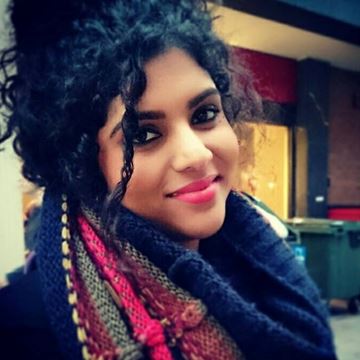 Natasha Chandra
Director/Writer
Location:

London

Career stage:

Early

Freelancer:

Available
"Head in the clouds, feet on the ground, sprint in my step, slip in my disc, song on my lips, gleam in my eye. You only live once so just live, laugh and love."
Pursuing a dream: The Prologue of my life.
I never wore a watch to school. Therefore, I never knew when it would be time for my physics teacher to stop talking about the insatiable intelligence of Newton and the clever creation of Archimedes' principles. She was quite the gifted teacher herself, encouraging rather than demeaning to a student who struggled with the academic norms of an Indian school education system. A system focused on Science, Mathematics and Computers within a society pushing the generation of tomorrow into careers of Medicine, Engineering and IT. Most aspects of this system were not particularly kind to a student, whose head was always in the clouds, and while the chalk board image read this displayed a long equation with strange symbols and squiggles, it was unconsciously replaced by my mind's imagination with the image of Archimedes, clumsily jumping out of his bath tub, running down the street with more than just his incredible discovery on show.

After numerous P.T.Ms and trips to the head-mistress' office, where I was told that I wasn't very bright, I did manage to pass my exams with a pretty decent average including a better than average score in Maths and Science. My next route, obviously, was "Arts and Humanities"; The course of the "BA", the Bachelorette of the Arts- a route so unfairly scorned at---so unjustly dismissed as inferior intelligence and lack of hard-work. I was intelligent enough to realise that of course without said Newton's Laws or Archimedes' principles, a lot of things would probably not make sense to me. Like, if I didn't know what it meant to float, I would never have known to allow myself to float towards an aspiration and if I couldn't comprehend gravity, I would've never known how to defy it.
Having met some of the most ingenious talent in my years spent in theatre and the arts, I discovered something beyond the science of life. I discovered that I wasn't alone. Alone in being told that I wasn't bright because I wrote stories rather than concluded equations, alone in being considered under-developed intellectually because I could stand on stage and understand beyond the teachings of a text book what he meant when he wrote "All the world's a stage, and all the men and women merely players."

Lucky for me, early enough, I discovered that everything that I had been told was nothing but ignorance. I forgave them. After all, they were once my age at school and who knows? Probably felt like me. I wrote and it made me smile. I created characters- people knew it was them. I stood on stage and it was my sanctuary. From then on, it was simple. Simple in my goal, complex in how to get there.

And thus, after this brief prologue on my life before i discovered the arts, I give you, my reader, a little bit of breathing space to either share or grimace at my experience; until Act 1- A life with drama.
Work History
Workshop Assistant advancing to Leader - Park Theatre
Artistic Director - Namaskhar
Assistant Director - Arora Arts
Workshop Leader - RAaW Kids
Stage Manager - Utopia Theatre
Stage Manager - Mayford Road Productions
Student of Film Studies - Queen Mary University of London
Artistic Director - Ingenium Dramatics
Artistic Director - Ingenium Dramatics
Education
Film Studies - BA 2:1 - Queen Mary University of London
A Levels - A2 Levels in Film Studies, Media Studies , English Language and Literature - Oldham Sixth Form College
AS Levels - AS levels in Film Studies, Media Studies, English, Drama and Business Studies - Oldham Sixth Form College
Skills
Scriptwriting
Training and Education
Assistant Directing
Directing
Pitching/presenting and proposal writing
Stage Management
Portfolio
ScreenSkills is not responsible for the content of these uploaded files.