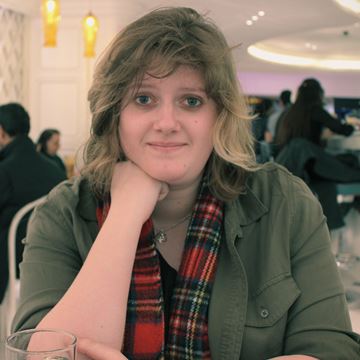 Daisy Hale
Producer
Location:

London

Career stage:

Early

Freelancer:

Available Soon
I'm a independent theatre producer, having graduated from the University of York in 2015 in Writing, Directing and Performance and then gone onto to my post-graduate at Mountview Academy of Theatre in Creative Producing. I'm currently mentored by the Royal Court Theatre and part of the British Council and Ed Fringe Producer Development Scheme 2016.
Current project is The Artificial Brain, a play exploring the blend between the autistic spectrum and artificial intelligence.
As well as producing, I specialise in marketing and communications, currently working for Icarus Theatre Collective. I also work occasionally as a set designer, having a strong visual output to all my work.
I am a founding member of The Minerva Collective, a female forward theatre company using theatre as a platform for social change. We particularly specialise in using verbatim work and have worked in both the UK and ireland. Our current show in development is Foodie a verbatim script surrounding women's relationships with food. (www.minervatheatre.com)
My work explores the highly visual, breaking traditional performance boundaries and giving voice to the unspoken. I have a strong interest in female and queer voices, working with young people and scientific work in art.
Credits:
Marketing and Communications Officer, Icarus Theatre Collective (Present)
Producer, The Minerva Collective, Waking Beauty, Oval House, (July 2016)
Producer, The Elephant Song, Mosaic Festival 2016, Karamel Club Theatre (July 2016)
Producer, BETH: A Slam Musical, Mosaic Festival 2016, Karamel Restaurant (June 2016)
Set Designer and builder, Are we all Met?, Haringey SHED theatre (May 2016)
Marketing Manager and Producer, Mosaic Festival 2016, Mountview Academy of Theatre (June- July 2016)
Producer, The Minerva Collective, Waking Beauty, International Dublin Gay Theatre Festival (May 2016)
Producer, Research and Development Workshop: The Artificial Brain, Diorama Arts (March, 2016)
Producer, Ducks on Water Producers Panel, Greenside Venues, Edinburgh Fringe (2015)
Financial Manager, Inter University Drama Festival, York (2015)
Head of Marketing and Assistant Producer, Theatre in the Theresienstadt, Bloomsbury Theatre, London (2015)
(Dir. Joe Lichenstein, Produced by Dr Lisa Peschel, TFTV York and University of Leeds)
Assistant Producer, Company of Angels, Theatre Café Festival, York (2014)
(Produced by Company of Angels and York Theatre Royal)

Assistant Producer, 'Alice in Wonderland', Iris Theatre, Covent Garden, London (2014)
(Dir. Daniel Winder, Produced by Tara Finney)
(Nominated 'Best Show for Young People' Off West End Awards 2014)
Producer, The Greenville Ghost, C Nova Edinburgh Fringe and Theatre503 (2014)
(Dir. Rory McGregor, Written by Tom Bonnington)
Work History
Producer - Pants on Fire Theatre
Assistant Producer - Arts and Humanities Research Council, University of York and University College London
Assistant Producer - Iris Theatre
Assistant Producer - Company of Angels
Education
Creative Producing - Master of Arts - Mountview Academy of Theatre
Writing, Directing and Performance - Bachelor of Arts - University of York
Skills
Budgeting
Marketing
Communications
Producing
Set Building
Set Design
Sourcing