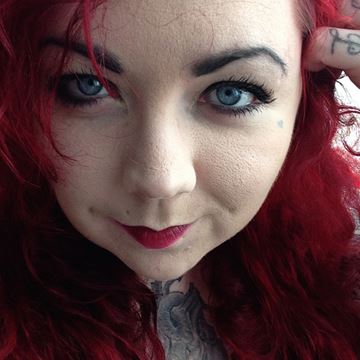 Clare Chapman studied for her BA(hons) Fine Art at UCA. She has been creating art for as long as she can remember and has been painting religiously for the last four years. Clare's work has been making fast strides using the masquerade to glamourise her subject matter creating paintings that have a hidden agenda. Clare has recently shown her work at various exhibitions in Ken including 'Macabre Delights' Group Show that Clare hosted and curated in November 2015 and Clare's Pop Up Studio and first Solo Show at The Pie Factory this past February.
_____________________________
"The only work really worth doing — the only work you can do convincingly
— is the work that focuses on the things you care about.
To not focus on those issues is to deny the constants in your life."
― David Bayles,
My art practice is created across the discourses of, mixed media, painting, and text. Through these mediums, with painting as the main element - I treat fine art practice as a realm of self expression, related to my past and present experiences. I work with the intention to create satyrical, carnivalesque paintings concerned with expressing a critical view of the patriarchal society in which we live.
Through my images, text and titles, I have committed myself to parallel acts of playing games, strategically staging the paintings. As revealed by their own use of masquerade imagery that underlines the blind faith in appearances - masquerade as a liberating force.
My current work; such as 'Melting Barbie' and 'Makeup Waterfall', where the face is melting creates an element of losing one's mask; "letting the mask slip". The everyday face that one wears to hide their true feelings. By having the makeup melting down in a waterfall of colour not only shows the mask slipping but becomes a mask of its own creation. Showing that one is never truly one self in front of others. The creation of 'self' is through many factors. One must consider both how they want to be seen and how one thinks they will be seen. "She becomes both the surveyed and the surveyor" John Berger. Particularly in relation to the use of makeup within mainstream culture and how although women wear it by choice and use it as an extension of themselves, the rest of our society make women feel as though they must wear it, perpetuating the myth that women without makeup are not beautiful and therefore persisting in objectification.
By using a more limited palette of pink tones, the paintings gain a carnivalesque aspect creating a more sinister hidden element to my paintings. In a similar way to the Feminist use of carnivalesque as appropriation of masculine sexual/gender symbolism to mock freudian concept of penis envy and to create laughter out of masculine role play.
The carnivalesque originates as transgressive religious feasts in which laughter is used to create a second anti-authoritarian world. The world of laughter Vs the world of work. In which work is lived out through hilarious reversals.
Whilst considering the carnivalesque I have been looking at how embellishing the canvas, creates cliche glamour. I include cherubs within my work to enhance the cliche. Cherubs are always depicted as cute innocent babies in religious paintings. Instead I've used cherubs to create the hidden devastation that can happen to someones mental health. The little cherub on your shoulder telling you you aren't good enough, whispering in your ear.
Work History
Education
Fine Art - BA (Hons) - University of the Creative Arts