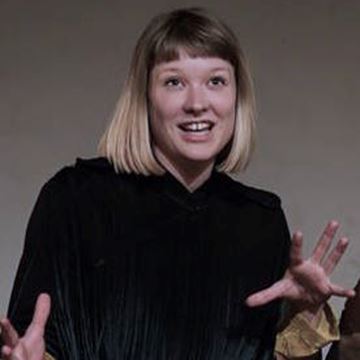 Kirsty ARNOLD
Freelance Dance Artist
Location:

London | Yorkshire

Career stage:

Experienced

Freelancer:

Available

Kirsty Arnold is a British contemporary dance artist. She has worked professionally and has longstanding relationships with a range of companies/choreographers/movers including Punchdrunk, Seke Chimuntengwende, Charlotte Spencer Projects, Roberta Jean, Sarah Dowling (artist in residence Royal Opera House), Joanna Young, Jose Vidal & Compañía. She has crossed into the world of theatre with Punchdrunk's collaboration with the National Theatre- The Drowned Man, as well as working with Simon McBurney on the new creation of a Complicité production of Stravinsky's The Rake's Progress, and Secret Cinema's BTTF.
Kirsty is interested in the relationship between sound and movement, receiving her own ACE funding and IdeasTap Innovation Award for research involving recordings with Portuguese sound artist Filipe Sousa. This relationship with sound features in her own practice - how we listen to each other, and how sound can support and influence the relationship we choose to have with our body . Her work is as a collaborator, enjoying working with and around like-minded artists. She values subtlety, irony, physicality and the grey area around when moving becomes dancing.
Kirsty has been involved in independent projects with the BBC Symphony Orchestra Outreach at the Barbican in the UK, working with visual artist Alex Julyan and American composer Stephen Montague, and Places to Dance, a series of short films shown on BBC2. She has collaborated with musicians Iyatra Quartet and performed with London based improvisers Trumpet Creepers. She has been involved in presenting work at Dar Al-Anda, Jordan (assisted by the British Council), at Exposure Festival in Ireland,Locate festival with Sarah Blanc and at The Robin Howard Theatre in London. Kirsty has previously been shortlisted for Old Vic's Young Voices, for choreography. She has been involved with motion capture research with gaming developers at Leeds Beckett University.
Kirsty teaches as part of Punchdrunk's Enrichment programme, and SLDS, as well as delivering workshops internationally for a range of levels, including professional. She collaborates annually with post grad students of LCDS to facilitate a performance project at Casa des Artes in Porto. She has a current and valid DBS.

Kirsty trained at two of the UK's leading conservatoires for Dance and Drama:
NSCD BPA (Hons) Degree in Contemporary Dance (1st) 2005-2008
LCDS MA in Contemporary Performance 2008-2009