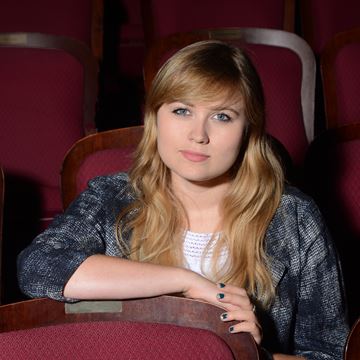 Katharine Farmer
Theatre Producer and Director
Location:

London

Freelancer:

Available
Katharine recently received Critic's Pick in The Los Angeles Times and a Santa Barbara Independent Award for her direction of Last Train to Nibroc by Arlene Hutton at Rubicon Theatre, California (May 2015). Last Train to Nibroc was also nominated for 3 LA Theatre Alliance Awards including 'Best Production of a Play (larger theatre). Katharine has recently directed the second in the Nibroc Trilogy at Rubicon Theatre Company called See Rock City which was also made a Critic's Choice in the LA Times.
Katharine had her West End directorial debut in Oct 2015 with Pig Farm by Greg Kotis at the St. James Theatre in London.
She directed Glamping by Carey Crim at the Samuel French Off Off Broadway Festival in New York and a charity production of The Importance of Being Earnest in October 2015 at the Dominion Theatre London.
A recent graduate of the University of Warwick, Katharine undertook a year-long Theatre Directing and Producing internship at Rubicon Theatre in Ventura. Last summer, she assisted Sir Trevor Nunn on his acclaimed production of Scenes from a Marriage at the St. James Theatre in London. She served as Associate Producer and Assistant Director to Rubicon Artistic Director James O'Neil on the Off-Broadway production of Lonesome Traveler, which ran at 59E59 Theatre in New York; and earlier this season was Assistant Director to Jenny Sullivan on the Off-Broadway production of Wiesenthal at The Acorn in Theatre Row. Both shows receieved Outer Critic's Circle and Drama Desk Nominations. She was Assistant Director to Scott Schwartz and Katie Lindsay on 23.5 Hours/Conviction by Carey Crim (a co-production between Bay Street Theatre in Sag Harbor and Rubicon). She is also a producer on the show under the banner of her company Dead Posh Productions, for which she has directed numerous productions including Who's Afraid of Virginia Woolf and Look Back In Anger.
Last Train To Nibroc, 2015 "Understated eloquence...focused, buoyant staging in this touching revival...Under Katharine Farmer's assured, insightful direction, [Erik] Odom and [Lily] Nicksay demonstrate theatrical savvy and maturity well beyond their years, radiating seriocomic charm with nary a wasted word, sidelong glance or emotional beat in this poignant, under-appreciated play." - The LA Times
Pig Farm, 2015 "Director Katharine Farmer brings home the bacon with a final act that is both outrageous and hysterically funny, sired from the sort of comic-book violence that owes a lot to Punch-and-Judy." - Stage Review ***** Everything-Theatre **** Michael Coveney – Whatsonstage.com **** Stage Review **** ReviewsHub
See Rock City, 2016 "The status of this script within the trilogy also gives us a clue as to just how good Katherine Farmer is as a director, for though the See Rock City script is thinner and less nuanced than the first play in the trilogy, Farmer milks it for all its worth and delivers an experience with an emotional punch and satisfaction that could only be achieved by first-rate directing" - Society 805
"Pitch-perfect staging by Katharine Farmer once again frames Hutton's deceptively simple, character-based style" - The LA Times
Work History
Director/Owner - Dead Posh Productions
Producing and Directing Internship - Rubicon Theatre Company
Education
Theatre and Performance Studies - BA (hons) - University of Warwick