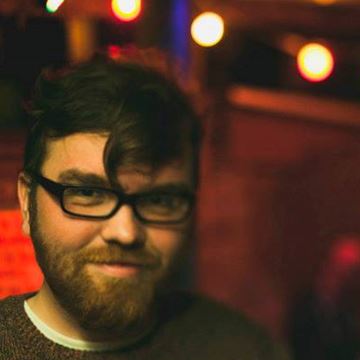 Rob Jones
Director, Maker, Sound and Video Designer
Location:

Glasgow and London

Career stage:

Early

Freelancer:

Available
Hello. My name is Rob and I make theatre, events, and noises. Mostly in Glasgow, and sometimes in London.
I'm also very friendly.
I devise theatre, direct texts, create interactive theatrical games and design sound and video for live performance. I am always seeking new opportunities to connect, learn and develop my practice, which is about creating bold, exuberant shows and events. I've worked with The National Theatre of Scotland, The Arches, and The Traverse, among others. I am interested in developing new techniques that allow companies of artists to share authorship and engage in dialogues with audiences.
I also work as a Support Worker, supporting adults with learning difficulties on a daily basis, and often creating theatre and perfomance together in community contexts, which I find hugely rewarding and well suited to my skillsets in communication and creative problem solving - not to mention a great deal of fun sometimes!
You can see some images my past projects in my Portfolio, but you can also find out much more about my work on my website, at robwpjones.com
If you've read this far, chances are I'm looking forward to talking to you. You can get in touch with me on here, or by email - contact@robwpjones.com, or on twitter - @robwpjones
Work History
Sound Designer - How To Sing It by Isobel MacArthur - Tron Theatre / Tron Creative
Video Designer - Mus Ro Faclan An (Before Words) by Rosalind Masson - Tramway/ Glasgow Life Gaelic Arts
Video Designer - Uainead (Degree of Greeness) by Kate Robinson - Tramway / Glasgow Life Gaelic Arts
Video Designer - Buaireas anns an Uisge (Trouble the Water) by Elspeth Turner - Tramway / Stroim Og
Assistant Director - Spectretown dir. Matthew Lenton - Stroim Og / Cumbernauld Theatre
Sound Designer and Collaborating Artist - Gate:OpenAir - Shift / Velocity Glasgow
Assistant Director - Unfaithful dir. Rachel O'Riordan - Traverse Theatre
Director - The Forbidden Experiment - Platform 18 Award Winner - The Arches
Director - Bonny Boys are Few by Michael John O'Neill - The Arches / Enormous Yes
Director - The Great Train Race by Robert Dawson Scott - A Play, A Pie and A Pint / Oran Mor
Director - #sleeptightbobbycairns by Michael John O'Neill - Tron Theatre / Enormous Yes
Sound Designer - All The Sex I've Ever Had dir. Darren O'Donnell - Mammalian Diving Reflex / The Arches
Director - #neednothing by Michael John O'Neill - The Arches / Enormous Yes
Assistant Director - Macbeth dir. John Tiffany & Andrew Goldberg - National Theatre of Scotland
Sound and Video Designer - Thatchers' Children dir. Gary Gardener - The Arches
Education
Theatre Studies - M.A.(Hons) Upper Second Class - University of Glasgow
Skills
Facilitation
Video Editing
Web Design
Ableton Live
Digital Video
Interactive Arts
Live Sound
Live Video
Musical Theatre
Physical Theatre
QLab
Sound and Video
Sound Design
Theatre