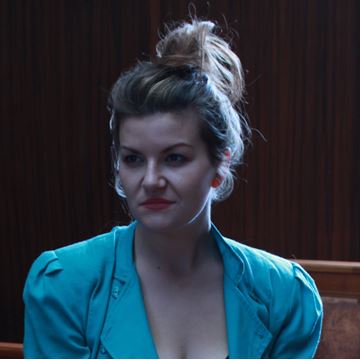 Laura Wyatt O'Keeffe
Actor/Writer/Performancemaker/facilitator
Location:

London/Ireland

Career stage:

Early

Freelancer:

Available
Laura Wyatt O'Keeffe is a Brighton Fringe Award nominated performer, writer, facilitator, activist and creative collaborator. Laura's work generates performances with, for and inspired by community; specifically groups who are socially excluded or remain unrepresented in present, cultural narrative.
Laura's first solo show wish i was…played Hornsey Town Hall in September of this year. The experience was described as "At times during certain pieces of theatre or live art there are notable moments where a word or sound seems to reverberate, not only within the walls of the auditorium, but simultaneously through the interiors of body and mind. In wish i was... this momentary effect is extended in to an hour-long piece" (17%). wish i was… played Smock Alley Theatre (Dublin) for Collaborations Festival in February 2015. wish i was... was produced as part of TDC's SHOW Festival 2013 and recorded for Irish International Radio. wish i was... was named must-see show of the festival, awarded four stars (playstosee.com) and described as "impressive, evocative . . . with pulsating atmosphere" (The Irish Examiner).
She was commissioned by HAB Arts and Arts Council England to create Pillowtalk, a site centric sound installation inspired by her Grandmother and her relationship with Dementia. Audiences described it as "Mesmerising…hypnotic…disturbing. The place between sleeping and waking".
Her work Brief premiered at TDC's SHOW Festival 2014. Brief was developed in residency at London's Ovalhouse Theatre with research supported by British Pregnancy Advisory Service and Abortion Network Support. "Brief, the most passionately polemical play to be staged in Cork in quite some time. The highly charged scenario engenders heated debate... a philosophical pondering on how we debate and how we represent things in theatre. Laura is a strong performer of her own work" (The Evening Echo).
She has also written The Life of Johnny, which premiered in the Firkin Crane (Cork) and played The Granary Theatre in the following year with all proceeds going to Sexual Health Centre Ireland. Her first film Laundry screened in the Fastnet and Underground Festivals in 2013. She began writing at 17 with the women's group 7:3:1, this writing project resulted in two sell out performances of The Sunbeam Girls in Cork Opera House and The Sunbeam Girls 2.
She has facilitated workshops and supported work at the Barbican Centre, University College of Cork, East 15 School of Acting, Colaiste Stiofain Naofa's Performing Arts Department and Muscular Dystrophy Ireland as well as secondary and primary schools.
She has also appeared in and devised Vesta(Nominated for a One To Watch Award 2013 at Brighton Fringe, Theatre 503, The White Bear), appeared in Hobo Glory (Bush Theatre), The Tinker's Wedding (Emporium Productions), The Madwoman of Chaillot (The Cockpit), Anne Frank and Me (Cork Arts Theatre), Men Should Weep and Under Milk Wood (Everyman Palace), Threesome, My Love and Unhinged (Granary Theatre), The Sunbeam Girls, The Sunbeam Girls Revival and The Good Sisters (Cork Opera House), The Train Show (Cork Midsummer Festival) and Lipstick (Regional Tour). Her film credits include Three's a Crowd, Swan Song, On a Clear Day, Wish I Was (Cork), The Fanatic, Laundry (Screened at Fastnet and Underground Festival 2013), Turning! Tonic, Drift (U.K) and the music videos Some People Out There and I See Through (U.K.).
Work History
Creative Facilitator - Barbican Arts Centre/East 15/UCC/CSN/MDI
Performer/Writer/Producer - Laura Wyatt O'Keeffe
Education
Acting - Masters - East 15 School of Acting
Drama and Communication Studies - Teacher's Diploma - University of West London
Drama and Theatre Studies and English - Honours BA Degree - University College of Cork
Portfolio
Delete item. Are you sure?
Yes
/
No
{{item.MemberAudioTitle}}