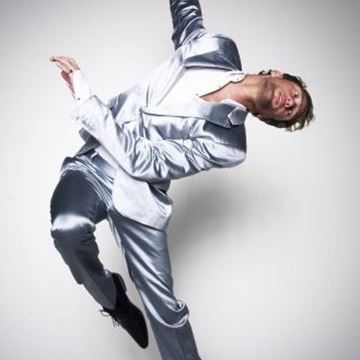 Thomas Michael Voss Choreographer
Choreographer - Movement Director - Performance Coach
Location:

London, UK

Career stage:

Experienced

Freelancer:

Available
Off West End Award nominated choreographer Thomas Michael Voss is meticulous and diverse in his styles and approach. Fused with unlimited creativity and imagination, his choreography delivers, speaks and even adds its own energy and flavour to any project without taking away from the main subject or focus.
Thomas Michael Voss went to study at the UCT Ballet School in Cape Town before coming to London to complete a 3 year degree course in Contemporary Dance and Dance Theatre at the TrinityLaban in 2000. He also used to compete successfully in Ballroom and Latin American dancing. Since then he has been successfully working in all fields of the business from Music Videos, Events, Theatre, Fashion, TV and Film.
Alongside an expansive career as a dancer in both the commercial and the arts world, Thomas Michael Voss is also featured as the german dance master to Rupert Friend in the movie 'The Young Victoria' and he appears in the movie 'Another Life' and in the TV Documentary 'Ten Days To D-Day' (as Walter Schwender) and he played Alexander in 'Alexander The Great' for Discovery Channel.
His career as a choreographer very much echoes his previous dance career. He successfully choreographs for all fields and genres in the arts as well as commercially.
Theatre choreography credits include:
Finian's Rainbow for which he received a multitude of raving reviews without exception. Princess Ida for which he received an Off West End Award nomination and Shakespeare's Twelfth Night. Thomas Michael Voss is currently working on Shakespeare's As You Like It at Windsor Great Park after finishing a successful run of the new British musical Princess Caraboo.
Other: Road Show, Saturday Night, Spelling Bee, Mile High, Guys and Dolls, The Rocky Horror Show, La Cage Aux Folles, South Pacific (Craig Revel Horwood), Mojong Ae Saewol Korea, Esu Ae Sujago Korea, A Little Night Music (Trevor Nunn, Menier Chocolate Factory)
Thomas Michael Voss choreographed Music Videos for Craig David, Mark Ronson, James Blunt, Lily Allen, Ali Love, Yoav, SuperJupiter, Ministry Of Sound, Leon Jackson, Angelis, Scape feat. D'Empress, The Darkness, Muse, Kym Marsh, and he has worked with the Scissor Sisters at the Brit Awards and with Mariah Carey at the Astoria London.
From time to time Thomas Michael Voss gets commissioned to create his own work which in the past included the pieces: Laterite, Quaestio, Tierra Roja, Four Seasons Of Bueonos Aires in collaboration with the Arensky Chamber Orchestra as part of GDIF, Dancing on Parliament 'V7/15' as part of the Big Dance and Pragma as part of the Festival Of Love at the Royal Festival Hall, Southbank.
For the movie 'How To Lose Friends And Alienate People' Thomas Michael Voss created two little casual dance sequences for Kirsten Dunst and Simon Pegg.
Most audiences were drawn by Thomas Michael Voss's TV Commercials and Internet Virals to just name a few:
The Viral for Westfield, '100 years of Fashion in a 100 Seconds' choreographed by Thomas Michael Voss, to date has been viewed and reviewed by over 8.7 million people and has also received copious amounts of praise and complimentary reviews. The clip is even used at fashion colleges today as a point of reference and has found many copycats since.
Other: Samsung 'Cute Girl' 6 million views, Samsung 'Unleash next generation', Samsung 'Unboxing', Moben 'Dancing Kitchen Designer', P&O Cruises, Aunt Bessie 'Dinner', several BBC Strictly Idents, Slim Fast, Nintendo 23 Idents, Ibuleve, Wink Bingo 'Irish Dancing Dog', Argos 'Bed Clock', Southern Comfort and the Daily Mail.
Thomas Michael Voss teaches Ballroom Dance all across London and he gets often invited to hold workshops and masterclasses as well as to host and run Tea Dances and events nationally and internationally.That includes teaching the homeless and people in need for the charity 'Crisis'.
And most recently Thomas Michael Voss was accepted as a volunteer Koestler Art Critic to review the entries to the 2015 Koestler Awards, which is organised and run by the Koestler Trust - Arts By Offenders, Secure Patients And Detainees. The works of the finalists will be part of the exhibition 'Voices from Prison' at the Southbank Centre.
www.tmvoss.co.uk contact: 07939461136
Work History
Choreographer - Twelfth Night
Choreographer - Saturday Night
Choreographer - Spelling Bee
Choreographer - BBC Ident
Choreographer - Princess Ida
Choreographer - Finian's Rainbow
Choreographer - P&O Cruises
Choreographer - Southern Comfort
Choreographer - Mile High
Choreographer - Apollo Theatre, Paul Chowdrhy
Choreographer - London Fashion Week
Choreographer - Westfield
Choreographer - 4 Seasons Of Buenos Aires
Choreographer - The Big Dance
Ballroom Consultant - A Little Night Music
Choreographer - Strictly Come Dancing
Choreographer - Apollo Theatre, Andy Parsons
Choreographer - Lily Allen
Choreographer - Slim Fast
Assistant Choreographer - Don Quixote
Choreographer - Tube Movie
Education
Contemporary Dance, Improvisation, Ballet, Jazz, Pilates - BA (Hons) Dance Theatre - TrinityLaban, London, UK
Classical Ballet, Mime, Character Dance, National Dance, Modern Dance, African Dance, Flamenco - n/a - UCT Ballet School, Cape Town, South Africa
Hairdressing - Hairdresser - Vezzosi Coiffeur, Essen, Germany
A-Levels: German, Fine Arts, Biology and Religious Education - A-Levels - Gymnasium Kothen, Wuppertal, Germany
Ballroom Dancing - All ISTD Medals and open Competition level B class (Pre-champ level). - Tanzschule Schaefer, Wuppertal, Germany
GCSE's - GCSE's - Realschule Leimbach, Wuppertal, Germany
Primary School - n/a - Grundschule Schuetzenstrasse, Wuppertal, Germany
Skills
Composition
Arts
Assistant Directing
Ballroom Dance
Choreography
Classical Ballet
Commercial Dance
Commercials
Contemporary Dance
Dance
Directing
Drama
Expressive Dance
Flamenco
Jazz Dance
Jive
Latin American Dance
Lindy Hop
Live Performance
Live TV
Movement
Music
Music Video
Musical Theatre
Performance
Performance Coaching
Physical Theatre
Quickstep
Salsa
Stage Combat
Staging
Swing
Tango
Tango Argentine
Virals
Waltz
Portfolio
ScreenSkills is not responsible for the content of these uploaded files.