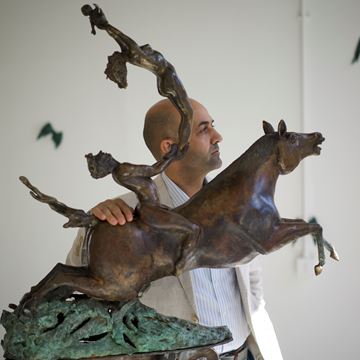 Abeer Elkhateb
Freelancer \ Painter and Sculptor \ Web admin
Location:

London

Career stage:

Expert

Freelancer:

Available
Abeer has accumulated a wealth of experience working with a multitude of mediums throughout his 30 years of engaging with artwork. Sculptures vary from bronze, wax, clay, wood and metal work. He draws inspiration from internal inquiries that come as he contemplates on his life or/and observations of the world around him. It starts with a simple idea, a drawing and then he alows it to grow, to show its dimensions organically into a story, a new idea, or perhaps a moment that generates a strongly felt emotion. Then he takes photos of models performing the movements of the idea that has developed and translates that into a painting to give it a three dimensional atmosphere. The last stage is to give it six dimensional form through sculpture work.
Born in Baghdad, Abeer grew up in a warm family and had since childhood a love for creating things with his hands and finding solutions to problems. As a child Abeer was guided and inspired by his father who taught him how to work with metal and understand engineering mechanism. He completed the Art Academy there and soon after moved to Holland. Later on he moved to London where he completed his MA Fine Art at UAL University.
Abeer's more recent works have focused mainly on narrative style where he explores intimacy between lovers and the emotions that come with intimate relationships such as; passion, tenderness, joy, conflict, being held, feeling protected, sharing your true nature and so on. These have been inspired by the love and devotion for his beloved wife and the coming of their child.
In the large scale paintings this theme is held in a circle which symbolizes the idea of "there is no beginning neither an end". The viewer is invited to see the painting from whichever angle he or she is facing it from.
Work History
Freelancer Artist - Abeer Elkhateb
Education
Skills
Art Gallery, Painting, Sculpting, 3D Clay Modeling, Carving, Body casting, Metal work, Wax Modeling, Drawing, Realism, Fantasy,